Watch the First Trailer for Aaron Sorkin's Steve Jobs Biopic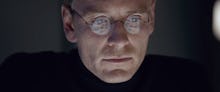 Apple founder Steve Jobs may be gone, but Aaron Sorkin is making sure he won't be forgotten.
The first trailer for Sorkin's Steve Jobs dropped Tuesday, giving a taste of the movie that will show the late tech genius launching three different products. The film is focusing much more on his early life, including time spent with co-founder Steve Wozniak (played by Seth Rogen).
Michael Fassbender makes for quite the Jobs, aiming more for his essence than to look like an exact imitator. The film also stars Kate Winslet and Jeff Daniels as fellow members of the Apple team.
This isn't the first movie about Jobs, of course. Ashton Kutcher starred in 2013's Jobs, but that was a critical and commercial flop. With Sorkin and director Danny Boyle's pedigree, this project has a much better chance at being the definitive Jobs biopic.
Steve Jobs will hit theaters Oct. 9. Watch the full trailer below.