The Ku Klux Klan Is Planning a Confederate Flag Rally in South Carolina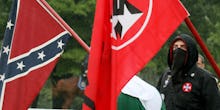 One of America's most infamous hate groups wants to weigh in on the Confederate flag controversy.
On Monday, the Loyal White Knights of the Ku Klux Klan's Pelham, North Carolina, chapter secured a permit for an organized demonstration on the Statehouse Grounds in South Carolina next month, Politico reports. The rally is scheduled for July 18 from 3 p.m. to 5 p.m.
The chapter's Great Titan James Spears told Politico the notorious white supremacist group was gathering to rally against "the Confederate flag being took down for all the wrong reasons" as well as defend "white culture." 
On the group's website, a fully capitalized call to action urged people to "say no to cultural genocide," insisted "black people and even the Cherokee nations fought for the South" and labeled Republican Gov. Nikki Haley's administration as a "cultural Marxist government." The group also accused whites of being too "scared" of being labeled racists.
While South Carolina branches of the KKK have started major campaigns to recruit new members this year, it's mainly been in response to the Klan's dwindling influence throughout the South. A group calling itself the "Loyal White Knights" recently launched a simultaneous flier campaign in North Carolina.
"The Klan and hate groups in general continue to be more attractive to people who are less educated, people who are poor, the sort of white people who are feeling particularly marginalized and who are feeling the realities of the shifting demographics," Southern Poverty Law Center outreach director Lecia Brooks told Al Jazeera America. "They're constantly recruiting because their membership rolls are dwindling. They are becoming more and more irrelevant every day."
However, while old-guard groups like the KKK are slowly going extinct, the law center's Hate Watch blog editor Ryan Lenz told Mic right-wing extremism has actually increased in recent years due to economic troubles, the election of the first black president and "the reality that the Census Bureau has predicted that whites will be a minority for the first time."
"The traditional organized structure of the radical right ... seems to have slowed in favor of lone wolf actions, or guys that no longer belong to groups but are inspired by their rhetoric," Lenz said. "This is a very real and terrifying part of our lives, part of American culture."