New Jersey Doesn't Love Chris Christie, But He Wants America's Vote Anyway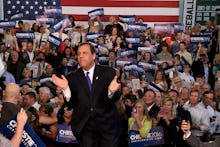 Fourteen candidates and counting.
On Tuesday morning, New Jersey Gov. Chris Christie announced his entry into the crowded Republican presidential primary field, which is likely to swell to 16 by the end of July. Speaking from his alma mater, Livingston High School, Christie sought to shine a positive light on his reputation for loud and occasionally angry outbursts by telling supporters he has "never wavered from telling you the truth as I see it," while promising voters "you're gonna get what I think, whether you like it or not."
"I mean what I say and I say what I mean," he told the packed gymnasium. "And that's what America needs right now."
New Jersey might beg to differ.
Elected to a second term with 60% of the vote in November 2013, Christie currently sits with a statewide approval rating of 30%, the lowest since he arrived at the governor's mansion in January 2010.
Winning back the broad support he enjoyed less than two years ago will be a hefty task for the increasingly controversial governor. Since the evening of his landslide reelection — then described by the New York Times as "a victory that vaulted him to the front ranks of Republican presidential contenders and made him his party's foremost proponent of pragmatism over ideology" — Christie has plummeted from grace. Scandals, broken promises and untimely temper tantrums have crippled his run before it had the chance to stand and walk. 
Taking hits at home: In his quest to secure an overwhelming victory in that 2013 race, Christie sought the endorsements of both Republican and Democratic state leaders. One of the few holdouts was Fort Lee Mayor Mark Sokolich. Not that it mattered much — Christie coasted, defeating Democrat Barbara Buono by more than 22 points.
But less than a month later, the scandal that would come to be known as "Bridgegate" began to make headlines. The scandal, which is still being investigated by state and federal agencies, involved highway lane closures meant to snarl traffic on the New Jersey end of the George Washington Bridge, the main conduit for automobile travel between northern New Jersey and New York City. 
By January 2014, emails obtained by various news outlets showed that two of Christie's top aides had worked together, even joking it was "time for some traffic problems in Fort Lee" after Sokolich withheld his support. Christie has steadfastly denied having played any part in the decision, but he was forced to fire top staffers and saw his longtime ally, Port Authority executive David Wildstein — a friend Christie first encountered in the halls of the school where he gave his speech Tuesday — plead guilty to conspiring with two other senior officials to carry out the plan. 
Seventeen months later, the shadow of Bridgegate still looms over Christie's political future, both in New Jersey and on the national stage. The governor spent 218 of the first 518 days of his second term outside of his state, according to a tally from WNYC, as Christie crisscrossed the country raising money in his role as Republican Governors Association president, then shifting almost exclusively to pre-campaign visits to early primary states like Iowa and New Hampshire.
Christie's repeated absences, along with a long and contentious court battle over his plan to "reform" public pension program by essentially rewriting a years-old agreement, has eaten away at his standing in New Jersey. On June 9, the state's top court sided with the administration, allowing the state to begin skipping payments. That win, though, was tempered by a decision months earlier by Moody's Investor Services to downgrade the state's credit rating for a ninth time since Christie took office. The reason: a "weak financial position and large structural imbalance, primarily related to continued pension contribution shortfalls." 
A mess in Texas: Less than four years after GOP donors "begged" to Christie to join the 2012 primary race, the governor is looking more and more like a national also-ran. Christie played footsie with the Republican moneymen for months in the last election before ultimately demurring. But by the summer before the election, Christie had indicated he would be willing to join the ticket as a vice presidential nominee. 
So began the vetting process. Romney's team swept the field for potential political land mines. Christie's was littered with them. According to information leaked to reporters Mark Halperin and John Heilemann, the governor, who has made fiscal austerity the centerpiece of his policy agenda at home, had a troubling habit of dining out on the taxpayer's dime. There was, for instance, a Justice Department report from 2010 describing Christie, then a federal prosecutor, as "'the U.S. attorney who most often exceeded the government (travel expense) rate without adequate justification' and for offering 'insufficient, inaccurate, or no justification' for stays at overly expensive hotels.'"
The concerns turned out to be well-grounded. Over the past three years, Christie's spending habits — and his willingness to accept lavish gifts from "friends" like Jordan's King Abdullah — have drawn scrutiny from opponents and the press. A longtime Dallas Cowboys fan, Christie made headlines when he appeared in owner Jerry Jones' private box during an NFL playoff game early this year.
Unruly embrace aside, Christie immediately faced a new round of ethics concerns. The trip to Texas and plum seating, which NJ.com estimated would have cost "tens of thousands of dollars," was covered in its entirety by Jones, who has significant business interests in Christie's New Jersey.  
Despite the minor public outcry, Christie maintained his travel plans, even turning up the next weekend in Green Bay to watch the Cowboys lose to the Packers in another playoff game. Asked before kickoff if he would follow the team to Seattle, where they would have played the next week, Christie indicated to NJ.com he was ready to make another trip.
"But we'll see what my day job lets me do or not let me do," he said.
The road ahead: On the night in 2013 he won a sweeping reelection in New Jersey, a month before Bridgegate arrived on his doorstep, Christie struck the tone of a national electoral frontrunner.
"Show up in the places where we're comfortable," he said, implicitly urging GOP presidential candidates to seek a broader audience, and "we show up in the places we're uncomfortable.
"You don't just show up six months before an election," Christie said.
With the first contests of the 2016 race a little more than seven months away, there are fewer and fewer "comfortable places" for Christie to make his case to voters. Iowa, which tends to favor more socially conservative candidates, is a lost cause. ("The hell with Iowa," billionaire Christie supporter Ken Langone told the National Journal on Tuesday.) New Hampshire, whose vote follows the Iowa caucus at the top of the primary slate, could be his Waterloo. 
For now, Christie will be laser-focused a nearer date: Aug. 6, when Fox News plays host to the GOP's opening debate of the campaign season. Only the top ten polling candidates will get an invite, and Christie, who lives and dies by that acid tongue, desperately needs to be on that stage, working over opponents in an effort recapture the goodwill and attention of Republican voters.