Becky G's Dedicating Her New Song "We Are Mexico" to Donald Trump Is the Perfect Burn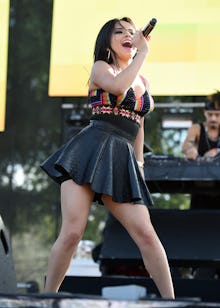 The racist comments Donald Trump made about Mexican immigrants during his June 16 announcement of his presidential candidacy are coming back to haunt him. Mexican artists such as J Balvin and Manà have spoken out against Trump, and pop star Becky G just composed the pièce de résistance. 
Last week, Becky G dedicated her song "We Are Mexico" to Trump. In it she gives Trump a look at what the real Mexican experience is like — no raping, drug dealing or murdering involved.
"Hard work, double time, overtime, two jobs, working till our heads hurt, but we ain't never late to pay the bills," Becky G sings in the song.
The powerful portrait she's painted has resonated across Twitter. The song immediately started trending. Her tweet dedicating the song to Trump has since been retweeted 4,700 times (with 2,500 coming the first two hours, according to Cosmopolitan). Users have been celebrating the song's powerful message with the hashtag #WeAreMexico.
And Becky G has turned that the gratitude right back to her fans:
And has fended off the haters:
Get 'em Becky. The success of "We Are Mexico" is the icing on the cake for the massive backlash Trump has received, which has resulted in decisive actions against the out-of-touch mogul. Last week, Univision stated it would not air the Miss America pageant, which Trump partly owns, out of "respect and dignity for all people are cornerstones of our values," according to a statement. And Monday NBC Universal with severed all ties to Trump. 
That's what you get when you mess with Mexico.
h/t Cosmopolitan