The Story of How Misty Copeland Became Famous Will Make You Love Her Even More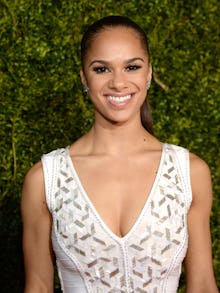 Misty Copeland made history on Tuesday by becoming the first black ballerina to be named principal dancer by the American Ballet Theater. But the talented dancer's journey to making history was hardly easy. 
While most ballerinas start dancing at very young ages, Copeland encountered her calling relatively late in life, at age 13. In fact, although Copeland idolized gymnast Nadia Comaneci, it was only after her junior high school drill-team coach suggested she try taking a ballet class at a local Boys and Girls Club that she discovered her love for dance, according to a September New Yorker profile.
Growing through tough times: At about the same time she began dancing, however, Copeland found herself living in relative poverty. Her single mother moved her and five siblings into a motel, and making it to dance classes became difficult. Soon after, Copeland's ballet teacher took her in so that she could continue to train, which led to the young dancer eventually filing for legal emancipation, although she withdrew the petition after a furious legal battle, according to the New York Daily News. Nevertheless, Copeland defied these circumstances and continued to train. And it paid off: In 2000, she was hired by the American Ballet Theater's junior company at 18 years old, and the following year she joined the ensemble. 
Bucking stereotypes: Even then, Copeland's success was hardly straightforward. She found out she had a lower-vertebral fracture only a few months after joining ABT, and had to wear a brace 23 hours a day, according to the New Yorker. The fact that Copeland's body notably deviates from the aesthetic norm of the American ballerina also became a point of contention. She was even told that she needed to lose weight — or, in ballet parlance, to "lengthen," Copeland notes in her memoir. 
"Your line is not as lean and classical as it was before," she recalls the ABT staff once told her. "We'd like to see you get that back."
"I was barely over a hundred pounds, but I felt so fat, and even a stranger at a club, when I told him I was a ballerina, said, 'No way,'" she told the New Yorker. 
In addition to body shaming, Copeland faced racism in the whitewashed world of ballet. 
"There were many people who seemed not to want to see black ballerinas," she writes in her memoir, "who thought that our very presence made ballet less authentic, less romantic, less true. The bitter truth is I felt that I wasn't being fully accepted because I was black, that leaders of the company just didn't see me starring in more classical roles, despite my elegant line and flow."
"When we think of ballerinas, we think of pink and pale and fluffy," Lauren Anderson told the New Yorker. She's a principal dancer with the Houston Ballet and the first African-American woman to reach the rank of principal ballerina with a major American company other than the Dance Theatre of Harlem. "We're not accustomed to thinking of black women's bodies in that context. We're accustomed to thinking of black women as athletic and strong. But all ballerinas are athletic, all ballerinas are strong."
Copeland is not only conscious of these ridiculously antiquated standards, but determined to buck them.
"It's important for me to set an example of what a healthy image is, what a ballerina can be — that she doesn't have to be a white woman that's rail-thin" Copeland told Time. "I'm a woman now," she also told AOL's Makers. "I don't look like a little girl anymore and I don't think that we should look like little girls."
With one career success after another, she's setting a true example. In addition to her many accomplishments with ABT — including becoming the first black woman in a major company to play the title role in The Firebird, in 2012 — Prince invited her to appear in his 2009 music video for "Crimson and Clover." Copeland even danced on selected dates of his tour the following summer, New York magazine reported.
Copeland is possibly best known by the general public, however, for appearing in multiple advertisements — especially a viral spot for the sportswear company Under Armour. As Rivka Galchen wrote of Copeland's commercial success in the New Yorker, "While it is disheartening to be reminded that product endorsement is the strongest measure of mainstream success, it feels good to see a woman who is doing more than being pretty become the kind of idol commonly associated with the stars of ESPN."
And Galchen is right: Copeland is far more than a shallow icon, but a talented, determined trailblazer. It's a role at which she's clearly succeeded in the past and one she's committed to continuing in the future. 
"Being one of the few black women in the ballet world is something I do think about," Copeland told Makers. "When I speak to a young girl who has tears in her eyes and says 'Thank you for doing what you're doing' — that's when I'm most proud."