If There's One Wedding Trend We Can Actually Get On Board With, It's This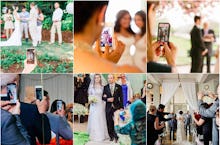 Imagine standing across from your soul mate on one of the most special days of your lives.
You just did that thing where you publicly commit to stay together forever. You're emotional and happy and in love, and really, you could just cry.
Congratulations! You're married. You enjoy your first kiss as newlyweds. Now it's time to face the crowd:
Aren't you glad you're paying a photographer over $2,500 to capture a moment that your friends have decided to capture — but not actually witness — themselves?
If you screamed "Ugh" just now, then allow us to introduce you to the smartphone basket:
The unplugged wedding: In a world where we're more connected than ever — and where wedding hashtags are de rigueur — it might seem absurd to ask guests to relinquish their beloved devices on your big day. But that's exactly what some happy couples are doing, in pursuit of "unplugged weddings."
While there aren't any definitive numbers on exactly how many brides and grooms have adopted the practice, a simple scan through the wedding bible that is Pinterest suggests the trend is on the rise. 
And it makes sense. We know how much smartphones distract us from the present moment, whether it's the compulsion for us to take iPhone photos of the ceremony rather than watching it unfold, or even that deeply ingrained urge to check our phones for something unrelated to the wedding entirely. (The cardinal sin might be scrolling through other people's Instagram photos during an actual wedding ceremony.)
As one woman told Offbeat Bride earlier this year, "My ceremony will be very short (perhaps 15 minutes) ... it could fly by while someone tries to figure out whether their memory card is full. How can I connect with my guests when I can't even see them through the cameras they're holding up?"
Quality control: Not everyone's motivation behind the smartphone basket is necessarily as New Age-y as "being present in the moment." Sometimes, it's just about having wedding photographs that don't suck.
"It was a quality control thing," said the 20-something brother of a bride whose sister recently enforced a smartphone basket. "Not because she wanted to unplug."
Indeed, the caliber of smartphone pictures can be amateur at best and utter garbage at worst. Instagram filters often do more harm than good, as professionals have noted that natural light kicks Valencia's ass. 
"My heart literally breaks when a guest ruins an otherwise lovely image or jumps in front of me when I'm capturing a key moment from the day," wedding photographer Corey Ann wrote for the Huffington Post in 2013. "It completely slays me when this happens because, while I am not remotely egotistical at all, I am fairly confident that my image would have been better than the one they captured."
Sorry hashtags, but #bye: While ditching smartphones during a wedding is likely to induce an outcry from ardent supporters of the almighty wedding hashtag, the potential payoff could be worth it. What good is a clever social media tag if all the photos attached to it are sprinkled with wannabe photographers lurking on the periphery?
More importantly, eliminating phones turns the focus on what really matters. Staying plugged in all the time, as it's been proven again and again, takes a toll on our mental and emotional health, not to mention our attention spans. If there's a good time to unplug, one of the most emotional and joyous days of the year would be one of them.
After all, weddings are about celebrating love — we can always work on our Insta grids the next day at brunch.