Forget Gwyneth — Ellen DeGeneres Just Launched a Lifestyle Brand, and We're in Love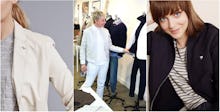 If the whole point of a "celebrity lifestyle line" is to copy a celebrity's life, then forget Gwyneth. The real person whose life we want to steal is Ellen DeGeneres.
The comedian clearly realized that, and on Tuesday she launched her her own lifestyle line, ED by Ellen. Like Gwyneth Paltrow before her, DeGeneres' line offers clothing, as well as accessories and home items. But it's all signature Ellen, which when you peruse the site, might be even more iconic than we realized.
Take a quick look and you'll immediately recognize her classic, clean style with neutral colors like whites, blues, grays and khaki as far as the eye can see, in classic Ellen combos of suits and separates. 
Look more closely and you'll see Ellen in the details (it's always in the details) — in the form of tiny monogrammed letters, "E.D.," which represent the nickname given to her by Portia de Rossi, and other times it's in the form of phrases like "happiness" and animal illustrations of goats, cats and dogs. 
If you caught wind of ED weeks ago on Instagram, there are undeniable hints of her trademark humor in captions like this: 
Welcome to #EDstagram — I am so excited to officially launch the #EDbyEllen Instagram, which I hope will be everyone's latest means of procrastination. Love, Ellen
It's been more than a year since Ellen DeGeneres announced she would launch a lifestyle brand with the backing of J. Christopher Burch of Burch Creative Capital (of Tory Burch fame), according to E!.
It's a crowded market as far as celebrity inspiration goes. While Martha Stewart's household wares and crafts once dominated, younger actresses have broken into the I-am-a-brand category of entrepreneurs. Paltrow changed the game with her newsletter and lifestyle blog Goop, Blake Lively gave lifestyle her own Southern spin with Preserve and Reese Witherspoon launched her own Draper James this May.
The difference here? Ellen is, well, Ellen. Who wouldn't want those navy blazers and white sneakers?
"I hope to give women something that's missing from the market, which is comfort, class and style with a sense of fun," DeGeneres told Mashable. "People always ask me who I'm wearing and where they can get my clothes. And now I'm excited to tell them I'm wearing me."
When the website for ED went live on the web early Tuesday, Ellen encouraged her fan to flock to the site. "EDbyELLEN.com is finally here! ED is my brand, ED is my nickname, ED is my initials. ED is hopefully for you! Go see ED now, but don't break the Internet!" the caption reads. 
(We reached out to ED by Ellen and will update if they get back to us.)
Wise words from a comedian who made a holiday card out of her own version of Kim Kardashian's "break the Internet" photo.
h/t Mashable