8 Badass Female Directors Marvel Should Hire Right Now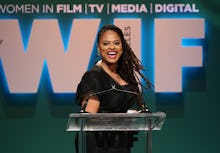 Selma director Ava DuVernay may or may not be directing a Marvel movie, but we've got plenty of ideas of who should.
As unsubstantiated rumors swirl that DuVernay's signed a deal to direct Marvel's Black Panther movie, she's remaining tight-lipped about whether or not she'll be joining the Avengers' universe. She even tweeted a wink at the rumor while expressing her support for Bree Newsome.
Yet even if it doesn't happen for DuVernay (which it absolutely should), Marvel would be wise to invest heavily in female directors going forward. The studio is pretty notorious for its problem with its treatment of women both on- and off-screen. A woman's eye beyond the camera would bring a brand new point of view — one desperately needed.
Luckily for them, we have some suggestions: eight directors who would be perfect additions to the Marvel universe. All eight happen to be women, and they also happen to be experts at their craft.
Note that this isn't just a spotlight on female directors in general. There are dozens of amazing women deserving of more projects, including Beyond the Lights' Gina Prince-Bythewood, Winter's Bone's Debra Granik and Talk to Me's Kasi Lemmons. But these eight are the directors whose resumes reveal a flair for action, or for the intense. Their takes on the superhero film are what we want posthaste.
Kathryn Bigelow
The only woman to win the Best Director Oscar, Bigelow is a dream choice for a Marvel flick. Her Best Picture nominees The Hurt Locker and Zero Dark Thirty (the former of which won) are both tense, thrilling films. They balance military action with characterization of complex heroes. She even directed Jeremy Renner and Jessica Chastain to Oscar nominations. If anyone could mix gravitas with tight action, it'd be her.
Michelle MacLaren
MacLaren actually was set to direct a superhero movie — but for DC, not Marvel. The latter would be smart to grab her now that she's available. The Game of Thrones and Breaking Bad director is no stranger to action. Hers is some of the most propulsive, thrilling direction on TV. She'd be able to make the leap to film without breaking a sweat.
Lynne Ramsay
Ramsay's We Need to Talk About Kevin was directed with such intensity. Though the psychological thriller about a murderous teen may seem like a world apart from the Marvel Cinematic Universe, it's a film with remarkable empathy for its truly heinous villain, the titular Kevin. One of the Marvel movies' greatest issues is a lack of memorable or well-drawn antagonists; Ramsay could use her skills to change that.
Jennifer Yuh
In 2011, Yuh became the first woman to helm an animated feature film solo, with the action-comedy Kung Fu Panda 2. Animation directors can't do live action, you say? The very same year, The Incredibles director Brad Bird brought a bit of cartoonish delight to a live-action film when he directed Mission: Impossible — Ghost Protocol. If Bird earned his chance, Yuh certainly did as well.
Catherine Hardwicke
For our money, the first Twilight movie was the most interesting. Under Hardwicke's direction, the love story and vampire adventure brought an independent sensibility to Stephanie Meyer's often silly tale. She didn't get the chance to direct the other Twilight Saga films, but we'd love to see what she could bring to the superhero genre. After all, Joss Whedon was able to effectively bring his TV quirk to the Avengers movies.
Agnieszka Holland
This Polish director might be unfamiliar to American audiences, but her work isn't: She directed three episodes of The Wire, among other TV credits. She's even an Oscar nominee, for her 2011 film In Darkness. Holland could bring the ability to balance individual vision with the goals of the greater MCU.
Mary Harron
Like Ramsay, Harron gets what it means to draw an interesting villain. She helmed 2000's American Psycho, directing Christian Bale to acclaim long before he ever dawned Batman's cape in the Dark Knight series. Bonus: She wrote the Psycho adaptation as well. Harron could be a double dose of talent for the studio.
Julie Taymor
On paper, this sounds like a disaster. Taymor couldn't direct Spider-Man: Turn Off the Dark on Broadway without causing injuries, delaying opening for months, wasting tens of millions of dollars and eventually getting fired. Theoretically, putting her behind the camera for a superhero movie would be a similar mess.
But it would be a glorious mess. Taymor's visions are trippy, wild, exuberant and strange. Her take on the superhero movie would be different than that of any other woman on this list — hell, different than any other director's at all. She managed to put together an odd-but-intriguing vision of the Beatles saga with Across the Universe, and her version of The Lion King remains the highest grossing show on Broadway week after week. 
For that alone, we want to see what Taymor would come up with. Just keep her on a very tight budget.