Twitter Pounces on Chris Christie's Hilarious Hashtag Fail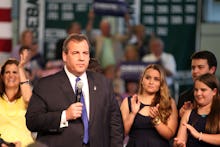 On Tuesday morning, Chris Christie became the 14th Republican to enter the party's packed nominating contest. It's a noisy bunch, but if there is anyone in American politics today with the will to talk over more than a dozen of his peers, it's New Jersey's boisterous two-term governor. 
"I've never wavered from telling you the truth as I see it, and then acting to make sure that you know that is the truth as I believe it in my heart," Christie told supporters gathered at Livingston High School, his alma mater. 
With that sentiment in mind, Christie's campaign introduced a slogan and hashtag: #TellingItLikeItIs. 
The citizens of social media took over from there, turning the candidate's rallying cry into a conduit for mocking and criticizing his political record. In the bipartisan exercise, Democrats and other antagonists  focused primarily on economics and "Bridgegate," while at least a few conservatives showed they're still chewing on sour grapes following Christie's 2012 decision to embrace President Barack Obama in the aftermath of Superstorm Sandy.  
The political utility of the Twitter hashtag is real — see #BlackLivesMatter — but extremely limited and frequently prone to backfire, especially when used to promote a brand. Because candidates are effectively pumping their brands to court voters, the odds of a hostile takeover spike.
And you end up with this: 
A couple Republicans got in on the act too: