Childish Gambino Strips Down Bruno Mars for the 'Magic Mike XXL' Soundtrack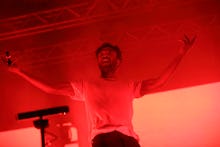 Donald Glover may be sexing up for his role in Magic Mike XXL, but Childish Gambino just wants to get married.
The rapping, singing and acting triple threat released Tuesday a cover of Bruno Mars' "Marry You." The song is featured on the Magic Mike XXL soundtrack, dropped ahead of its release Wednesday. Unsurprisingly, it's great — but perhaps unexpectedly, it's a sweet bit of crooning.
"Marry You" was an album cut on Mars' 2010 album Doo-Wops and Hooligans. The story of the song is a simple one: A couple drunk in love decide to get hitched on the fly. "It's a beautiful night / We're looking for something dumb to do," Mars (and now Glover) sings. "Hey baby / I think I want to marry you."
Mars' saccharine song may seem like an odd cover for Glover, not to mention in a sequel to a movie that prominently featured Ginuwine's ultra-raunchy "Pony." The selection makes sense, however, considering the cast's rather resolute statements that Magic Mike XXL is all about women. Balancing pure sex with pure emotion makes for a rather delectable cocktail of music.
Elsewhere on the Magic Mike XXL soundtrack, there's everything from R. Kelly's "Cookie" to the Backstreet Boys' "I Want It That Way." And yes, as was teased in the film's first trailer, Channing Tatum's "Pony" routine makes another appearance.
"Marry You" can be bought separately or as part of the film's soundtrack on iTunes.