'Game of Thrones' Season Six Will Have Dragons, White Walkers and Giants — But Not This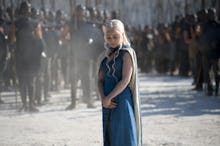 Women in charge.
Not a single female director will join the Game of Thrones crew for its next season, Entertainment Weekly reports. 
Taking the helm will be Jeremy Podeswa, Daniel Sackheim, Jack Bender, Mark Mylod and Miguel Sapochnik, each of whom will direct two episodes in an "extremely time-intensive directing gig" that will span "weeks or even months" for each scene.
The lack of any female direction is almost certainly going to be a sore spot for the show's feminist fanbase, which has gotten tired of the show's reliance on rape and misogynistic violence as a shock tactic (especially when it happens to characters who are already survivors, like Sansa Stark).
While the show definitely has no end of powerful female characters like the Stark girls, Daenerys Targaryen and the red priestess Melisandre, it also has a nasty habit of playing up their and others' victimization at the hands of men when it can't think of anything else to shock viewers, which happens quite often.
For example, Tumblr user Takfar compiled all the rapes shown in Game of Thrones as of late May and concluded the show had depicted 50 different acts of sexual violence committed upon 29 separate characters. The controversy under the unending series of sexual assaults shown on the show led the Mary Sue, one of the foremost female-oriented geek culture websites, to stop reporting on it.
According to the Game of Thrones Wiki, in the show's entire run, just one woman has ever directed: Michelle MacLaren, who directed two episodes each in seasons three and four.
Game of Thrones is full of mythical creatures, but apparently the show's producers are committed to ensuring the female director remains one of the rarest cryptids in all of Westeros. Maybe Daenerys could teach them a lesson in radical, systemic change.
h/t IndieWire