This Speech Is Why Jen Garner and Ben Affleck Were Our #RelationshipGoals — And Still Are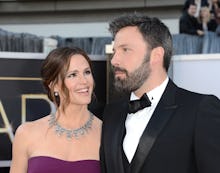 On Tuesday, the Internet wept as the dual beacons of #RelationshipGoals, Ben Affleck and Jennifer Garner, announced their split. The pair, who have been married for 10 years, gave a statement to People:
"After much thought and careful consideration, we have made the difficult decision to divorce. We go forward with love and friendship for one another and a commitment to co-parenting our children, whose privacy we ask to be respected during this difficult time. This will be our only comment on this private, family matter. Thank you for understanding." 
The result: total Internet meltdown.
Why is everyone freaking out so much? Amid the sea of Hollywood romances, you'd be hard-pressed to find a couple more open and honest about their love — and the work it took. Nowhere was that more apparent than in Affleck's emotional speech at the 2013 Oscars after winning Best Picture for Argo, in which he called out to his wife from the stage:
"I want to thank you for working on our marriage for 10 Christmases. It's good, it is work, but it's the best kind of work, and there's no one I'd rather work with."
Earnest and honest: Affleck and Garner actually faced backlash over the speech, with speculation that their marriage was in dire straits. But as Garner told the Telegraph, "I think [Ben] was saying, 'Look, what we have is really real and I value it above all and I'm in it with you and I know you are in it with me.' That's the way I took it."
Because that's how Garner and Affleck always acted — real. (For evidence, feel free to refer here, here, here, and here.)
Who can't relate to the idea that a long-term relationship isn't 100% easy, 100% of the time? By foregoing the typical sappy, awww-inducing, made-for-TV fare that we're accustomed to from star couples, Ben used this major career moment to honor his wife and marriage in perhaps the best way possible: by keeping it real and being upfront about the challenges of marriage.
And a far as celebrity #RelationshipGoals go, that's one of the best examples we've ever had.
And it still is — even though they're divorcing. It's tempting to lament the demise of Ben and Jen's marriage as the Death of Love, but in fact it's yet another example of the couple's no-bullshit approach to relationships. They're not easy, and they don't always work out, and that ultimately has to be OK (even if you have 10 Christmases under your belt).
A divorce isn't reason to dethrone Affleck and Garner as #RelationshipGoals royalty. Even in divorce, they embody the kind of honesty we should all strive for.