Kendrick Lamar Just Released a New Music Video for 'Alright' — And It's Amazing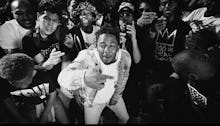 Kendrick Lamar cannot stop one-upping himself. 
On Tuesday, Compton's finest dropped his latest music video for the song "Alright." It's an unflinching look at the reality of police brutality and the state of racial inequality in the United States. It picks up where Lamar's Sunday night performance of the song at the BET awards leaves off. But Lamar does much more than rap on top of tagged-up police car. He pushes his critique of the system to new limits in offering an unflinching portrait of its true brutality.
The video starts with Kendrick reciting To Pimp A Butterfly's central poem, which weaves throughout the album and appears in full on "Mortal Man." He discusses artistic responsibility and the mental and institutional obstacles black individuals face in America. Lamar embellishes the poem with shots of police shooting and handcuffing minorities...
... rioters burning cars and money and downing bottles of liquor...
... and kids running from gangs.
But all this horror quickly dissipates into an unreleased instrumental and verse where Kendrick asserts his mission to flip the scenes outlined above. He shows what that will look like: The camera pans out, and four white police officers carry his car on their shoulders while the whole TDE crew rocks out.
Unfortunately, Kendrick's fantasy doesn't last. After flying blissfully through the city, spitting raps from the tops of light posts, Kendrick hits the crosshairs of a white cop, who takes aim and stops him from soaring too high. This moment reminds the viewer how dangerous it is to be black in America.
This video is just the latest in a monumental array of stunning visuals that capture the ongoing struggles of police brutality taking place in this country. It joins Run The Jewels' "Close Your Eyes (And Count To Fuck)," Big Sean's "One Man Can Change The World" and Joey Bada$$'s "Like Me," all of which dropped this year and explore the same theme.
Hip-hop has become a vital force in helping to energize and direct individual actions in this conflict, and Kendrick Lamar continues to lead the conversation. It's hard to think any other To Pimp A Butterfly media can top the scope of this video — but with Kendrick's mind, one never knows.