Fire at Black Church in South Carolina Is the 6th Since the Charleston Massacre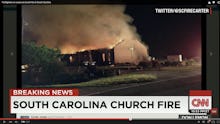 The Mt. Zion African Methodist Episcopal Church in Greeleyville, South Carolina, burned to the ground on Tuesday night, making it the sixth black church in the South to be ablaze since the deadly, racially motivated Charleston massacre on June 17, which left nine black people dead in their church. 
The fire was so aggressive, the church's roof collapsed before roughly 50 firefighters were able to contain the inferno. Twenty years ago, the church's previous incarnation was destroyed in a targeted fire started by the Ku Klux Klan.
According to the Associated Press, initial investigations have found the fire was not the result of foul play or arson.
Nevertheless, given the recent pattern of historically African-American churches burning, the NAACP warned black churches of the dangers just earlier in the day.
"Certainly, I think we all are concerned about those things," Mark Keel, chief of the State Law Enforcement Division, said about racially motivated church fires to the Post and Courier. 
"In what may not be a coincidence, a string of nighttime fires have damaged or destroyed at least five predominately black churches in four Southern states in the past week," the Southern Poverty Law Center reported June 26.
Since June 17, this is the sixth church in a Southern state to catch fire. The others were:
June 21: College Hill Seventh Day Adventist, Knoxville, Tennessee
June 23: God's Power Church of Christ, Macon, Georgia
June 24: Briar Creek Road Baptist Church, Charlotte, North Carolina
June 26: Glover Grove Baptist Church, Warrenville, South Carolina
June 26:  Greater Miracle Temple Apostolic Holiness Church, Tallahassee, Florida
The South has been in the midst of renewed social upheaval in the wake of the Charleston massacre, with controversy surrounding the Confederate flag — which many politicians have since campaigned to ban or remove — and heightened black-white racial tensions. If these issues are not addressed America does not confront its demons, there is every danger the South will continue to regress to what it once was: a place where black Americans were regularly targeted and treated as second-class citizens. 
Correction: July 1, 2015