Girl Scouts Rejected $100K Check From a Transphobic Donor. What They Did Next Is Priceless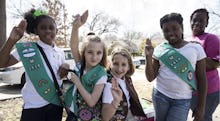 The Girl Scouts of Western Washington were probably really excited to receive a $100,000 donation in the mail earlier this spring. Unfortunately, that gift came with a caveat. 
The Seattle Met reports the message from an unnamed donor read, "Please guarantee that our gift will not be used to support transgender girls. If you can't, please return the money."
But, as the council's CEO Megan Ferland told Seattle Met, "Girl Scouts is for every girl. And every girl should have the opportunity to be a Girl Scout if she wants to."
Which is why the Girl Scouts of Western Washington sent that check right back to the donor.
While this act certainly places the group on the right side of history, the hard truth is that sum composes almost a third of the organization's entire financial assistance program for the year; 500 girls needed that financial support in order to participate, according to the organization. 
The group, however, is committed to raising these funds the Girl Scout way. On Monday, they launched an Indiegogo campaign and corresponding video, which beseeched the public to support their goal to empower "every girl regardless of her gender identity, socio-economic status, race, ethnicity, sexual orientation to make the world a better place." 
And the campaign has already showed that standing up for what's right — even at cost — can pay off in more ways than one. Not only has the organization provided a valuable public model of acceptance, but they more than doubled the initial donation. As of Wednesday morning, the campaign has raised over $247,000. 
This isn't the first time the Girl Scouts have publicly committed to including transgender members. While similar organizations have long struggled with LGBTQ-friendly policies (like the Boy Scouts of America, which only lifted the ban on gay troop leaders in May after a lengthy struggle to do so, for example) the Girl Scouts has publicly accepted transgender members for four years, according to CNN. A Denver troop — which, incidentally, Ferland also headed at the time — even attracted attention for accepting a young trans girl in 2012.
"Girl Scouts has taught me to be proud of who I am," a scout says in the Indiegogo campaign. "They respect me and my differences They've taught me ... to be a leader to help the community. They also helped me have confidence in myself."
This kind of life-changing experience shouldn't be withheld from any girl, no matter her gender expression, or any other component of her identity. And, thankfully, the donations of many who believe this have successfully outweighed the one who doesn't — at least not yet. 
h/t Cosmopolitan