Police Are Warning People Not to Use This iPhone Case — It Can Get You Killed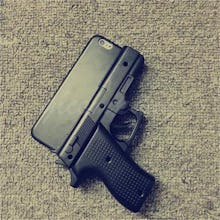 It should go without saying, but don't walk around with the grip of a pistol sticking out of your back pocket if you don't want anyone to bother you — or kill you. Even if that grip is actually an iPhone case.
The New York Police Department's 112th Precinct Deputy Inspector Judith Harrison posted on Twitter warning people not to use this pistol-grip iPhone case. She hashtagged the photo with #BeSmart and #BeSafe.
Law enforcement aren't the only ones worried about how this case could put people in danger. Joash Fynx, a black 19-year-old from the Bronx, knows a gag like that is an accident waiting to happen in some neighborhoods. "If a person of my race had something like that, it would be really dangerous," he told the New York Daily News. "Something like that can easily be mistaken for a weapon, especially in a bad neighborhood."
Where do they come from? Some of these cases are sold by eBay users based in China. They come in hot pink, white and black and fit most iPhone 4 through 6 models. When you see them up close, they're cheap plastic with no moving parts — not particularly realistic, as fake guns go. Still, hundreds have been sold. Mic also spotted the gun case on an online tchotchke retailer called JapanTrendShop.com. 
Carrying this case can be dangerous: "If I were a cop and it was dark and I saw this (case) on a person, my first thought would be to pull my gun and defuse the threat," Brooklyn community activist Tony Herbert said at a press conference on Tuesday, according to the New York Daily News. 
Real cops might too. According to a 2014 National Journal article, two Supreme Court rulings from the 1980s put into play the concept that a police officer's actions must be "objectively reasonable," meaning, an officer needs to be reasonably concerned about their safety in order to use necessary force. Pulling a weapon in the proximity of a police officer usually spikes threat levels. Even if there's a phone at the end of that pistol grip, most law enforcement won't wait until the thing is completely drawn to find out. It all comes down to discretion.
And unfortunately, American law enforcement hasn't been great at discretion lately.