Fox News Argues Kendrick Lamar Is More Damaging to Black Youth Than Racism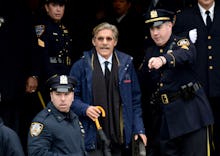 For the past two months since To Pimp a Butterfly dropped, Kendrick Lamar has been reinvigorating hip-hop, making it a powerful political and social force again. And Fox News could not be more upset.
On Fox News' the Five on Monday, a group of pundits weighed in on Lamar's Sunday night BET performance, which he performed "Alright" from on a top of a "vandalized cop car," as Eric Bolling, the show's cohost, described it. They did not love the show, to say the last. And the conversation they had gave Geraldo Rivera the chance to repeat the infuriatingly shortsighted comments he made about hip-hop in February — the genre has "done more damage to young African-Americans than racism in recent years."
If anything, Fox News is one of the biggest reasons we need hip-hop now more than ever.
Fox's beef: The show's hosts took special issue with Lamar's lyrics: "And we hate po-po / Want to kill us dead in the street fo sho." Rivera called them "counterproductive," while co-host Dana Perino said the performance "incites violence." None of the hosts bother to address any of the numerous recent incidents of police brutality, or the fact police are 21 times more likely to shoot black teens than white teens — facts that likely motivated Lamar to write such lines.
Rivera also said the lyrics "conflate what happened in this church in South Carolina with these tragic incidents involving excessive use of force by cops" and serve to "equate this racist killer with these cops." 
However, nothing about the performance suggests such claim. The lyrics to "Alright" were written and released far before that event ever occurred. The only thing suggesting such a connection is that incidence of racial violence happened more recently than any major incidence of police brutality. The only one conflating these incidents is Rivera.
This segment is only one example of Fox News' recent critiques of hip-hop culture. On Thursday, Fox News host Sean Hannity argued on his radio show that the music of Jay Z, Snoop Dogg and Beyoncé is just as offensive and dangerous as the Confederate flag and its long history of racial intimidation.
In its critiques of hip-hop, Fox News is ignoring so much of the genre's complexity. With Lamar, the song "Alright" is about finding a way to rise above adversity — be it institutionalized racism, poverty or depression. Fox News also seems to be ignoring all the good Lamar and the hip-hop community has done to give uplift the country's youth. This year alone, Lamar has visited a high school in New Jersey, appeared at a free youth festival in Chicago and received an award from California's 35th Senate district for being a generational icon. 
Hip-hop is not destroying the youth. But it is offering them a critical lens with which to view the inequalities still present at every level of our society. It's giving our country's a vital window into what's actually happening on the ground in our country's struggling cities, while Rivera and Fox News only report on what fits their thugs versus police narrative.
Watch the Fox News' full discussion of Lamar's "Alright" below.