6 Black Churches Have Burned in the South — Here's What the Media Isn't Showing You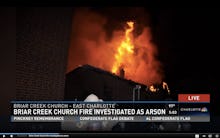 On Tuesday, the Mt. Zion African Methodist Episcopal Church in Greeleyville, South Carolina, caught on fire, making it the sixth black church in a Southern state to burn since the deadly Charleston massacre, the hate crime in South Carolina where nine black people were shot and killed because of their race.
You'd never know it from watching coverage in the mainstream media.
Many people have taken to Twitter to point out the glaring difference in mainstream media attention surrounding the church fires, compared to the coverage of Baltimore, in which black people were portrayed as perpetrators and rioters.
A side-by-side comparison of newspaper front pages at the at the time of Baltimore vs. today is a poignant visual reminder of this double standard. 
On April 28, the day after Baltimore, the vast majority of both national and regional newspapers featured the Baltimore story on their front pages. Some examples of headlines across the country on April 28, the day after the civil unrest began, included "Violence Erupts in Baltimore" and "Clashes Rock Baltimore After Funeral; Curfew Is Set."
But on July 1, the day after Greeleyville's church fire? Near silence. The front pages of the same newspapers made no mention of the story, or the fact that it is the sixth black church to burn since the Charleston shooting. 
Here are eight side-by-side images highlighting the glaring lack of attention given to the disturbing pattern of black churches ablaze in the South:
The Wall Street Journal
New York Post
The Los Angeles Times
USA Today
The Washington Post
The New York Times
The Chicago Tribune
The Boston Globe