Nearly 20 Years in, Missy Elliott Is Still the Baddest Woman in Hip-Hop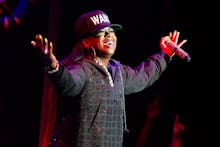 Where were you when Missy Elliott won Super Bowl 49? 
No moment of that four-hour broadcast is more memorable than the two and a half minutes Missy Misdemeanor was on stage running through "Get Your Freak On," "Work It" and "Lose Control" — not even Left Shark. She absolutely stole the show. And in doing so, she reminded us how long we've been without her infectiously danceable music.
Thankfully, the drought is set to end. At last Thursday's ASCAP Rhythm & Soul Music Awards, producer Timbaland announced that Missy Elliott will release new music this July and that her first single would feature hitmaker Pharrell. When the album drops, it will be her first official release in over a decade.
Today is Missy Misdemeanor's 44th birthday. So before that promotion kicks into high gear, let's celebrate all that the legend has given to hip-hop. Without Missy Elliott, the genre would look and sound entirely different.
Missy Elliott made her own lane. When Missy was trying to break onto the scene in the early '90s, hip-hop was much less accepting of female artists. Being able to grace a pin-up poster was as important — if not more so — than having distinct musical talent. In the eyes of many studio executives, Missy Elliott, who was part of the R&B group Sista, did not have the right body type to make it as a solo artist in hip-hop and R&B.
"They'd broken my heart," Elliott told the Guardian. "They said I could sing, I could write, but that I looked wrong. That was the lowest thing you could say. I didn't forget."
When she scored a No. 1 hit writing Aaliyah's "If Your Girl Only Knew," record companies came crawling back. She did not sign until she could guarantee the deal with give her full creative control over her music and image. She found that in Elektra and started her own label, The Goldmind Inc. The deal made Missy Elliott the first black woman entertainment mogul in the United States. 
With the power she earned, she changed the game.
A funkadelic new blend: Instead of making female sexuality the central element of her music, Missy Elliott stretched her sound into new territory. "I remember thinking, 'Do I have to be the chick in the little clothes? Do I have to be the chick with the long hair?'" Elliott told New York Daily News in 2001. "I'm from the old school, where a rapper was judged on how they were as a person and how hot their rhymes were."
Elliott mocked those who thought her body was the only tool she had to sell records by rapping inside of a massive puffy trash bag on the video for "Rain," her first solo hit. In a close read of the video, Noisey argued it "may be the boldest fashion statement in music video history." They're not wrong, and Missy Elliott did not stop pushing.
Throughout her career, Elliott has championed body positivity and feminist ideals. She encourages women to love their bodies, seek independence and demand satisfaction (sexual and otherwise) from their partners. And she spit it all over a strikingly bold neo-futuristic production style that she coined with her writing partner, Timbaland. It changed hip-hop's sound forever.
Mike D from the Beastie Boys, a similarly transformational figure in the genre, went as far to claim her debut "saved hip-hop," according to Telegraph.
Over her 20-plus-year career, Missy Elliott brought the dopeness and won herself five Grammys — including the both of the Grammy awards for Best Female Rap Solo Performance the two years it was awarded. She also continued working behind the scenes, writing hits for Whitney Houston, Destiny's Child, Mary J. Blige and Jazmine Sullivan. She helped launch the careers of Aaliyah and Ciara, and opened the gates for female artists of every variety to share their stories.
"People forget that if it wasn't for Missy there wouldn't be a lot of funky, I-am-out-there-and-different, loud artists," British R&B singer Estelle told The Boom Box. And Nicki Minaj, today's most successful female rapper, similarly draws inspiration from Elliott's achievements. "I have a different level of respect for Missy," Minaj told Rap-Up. "I know she's a writer and a producer. Women MUST aspire for more."
Missy Elliott will thankfully be returning this month to help provide example for the next generation. This Saturday she'll headline the 2015 Essence festival, and though she hasn't announced any hard release dates for her new music, it's coming soon.
We've waited this long, Missy. We can be patient a little while longer. Enjoy your birthday, boss.