Why Are These Five-Year-Olds Taking Over the Fashion World?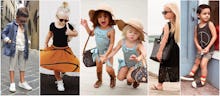 Our latest style icons aren't sitting front row at designer shows or walking red carpets in haute couture. In fact, some are still learning how to walk at all.
We're talking about the stylish kids in the single-digit age range who have been blowing up on social media in recent months, judging by the upwards of 100,000 Instagram followers some of them have. 
It seems we can't get enough of these fashionistas in all of their pint-sized glory — and in doing so, we've elevated them to a status usually reserved for adults.
A modern social media obsession: The fixation over kid's clothes has been brewing for a few years, with Tumblrs, blogs and countless photos across social media dedicated to fashion-forward youth. On Instagram, you can search endlessly through the more than 2 million results for the hashtag #FashionKids. The account @FashionKids, which features photos of stylish kids submitted by their parents, has 3.2 million followers.
Certain kids have emerged as stars. In 2013, New York magazine's The Cut profiled the rise of then-five-year-old Alonso Mateo, an Instagram fixture and "the latest in an Internet lineage of child-style icons," including Hudson Kroenig, son of model Brad Kroenig and already a Chanel runway regular, and Alia, niece of designer Alexander Wang.
The icing on the cupcake: In December, J. Crew tapped a four-year-old to design a kid's line for the brand.
The fans clearly go beyond obsessive parents (although it often starts with them). There's a broad audience for well-dressed munchkins, as Tiffany Beveridge found out. Back in 2013, she started pinning the comical adventures of "Quinoa," an imaginary child she created for fun, onto a Pinterest board that quickly went viral. That obsession turned into a book, "How to Quinoa: Life Lessons from My Imaginary Well-Dressed Daughter," published last year.
It's not just about the clothes: These stylish kids, of course, aren't truly dressing themselves — their parents are probably the ones picking out most of the outfits. But it's the kids who bring their own swagger, which clearly piques our interest. 
"Firstly it was me telling her how to stand, but she even impressed me when she started making different poses after a while," Ardita Mataj, mother of four-year-old Laerta, told Mic via email. "I guess she was born with that."
Laerta's Instagram account, which Ardita runs, has more than 88,000 followers and regularly features two or three photos of the little fashionista from various angles. She poses with a hand on her hip or in a pocket or leans lightly against a rail. If you think she's projecting an irresistible cute but cool demeanor, you're not alone — and neither is she.
"[Mateo] poses nonchalantly, looking away from the camera and smiling charismatically. Many of these shots are selfies, naturally, which he snaps in front of a mirror," Adaeze wrote about Alonso Mateo on The Cut. Stylist Ugo Mozie noted that the kiddo had "swagger." 
It helps that the kids aren't donning traditional frilly dresses or cartoon tees — instead, it's gladiator sandals, aviator sunglasses and army jackets with the sleeves rolled just so. The little boys look like GQ models, the little girls like top fashion bloggers.
Why we're so obsessed: It might be that juxtaposition of an adult-like confidence on a human so small simply fascinates us. Or perhaps it's an extension of our obsession with miniatures, applied to the ultimate walking-and-talking minis.
"It's a happy fantasy world — adorable kids who dress better than most adults, almost like another iteration of cute Internet cat memes," Beveridge surmised to Mic in an email.
Our interest has only been amplified by the omnipresence of celebrity kids, with their adorable (custom, designer) clothes on display in weekly tabloid magazines. Remember when Suri Cruz prompted envy with her perfect Mary Jane shoes? What about North West wearing a tutu or Blue Ivy sporting a personalized jacket? (Or, spoofing this constant kids' clothing obsession, "Suri Cruise" started a fashion blog to critique her peers?)
"There are some people who are all-in fans of this high fashion culture for kids, and they want it and mimic it," noted Beveridge. "For others, I think it's an oddity that they hate to love and love to hate."
Where the parents come in: One group that doesn't hate it: parents. Some of these stylish kids have landed modeling contracts; others, at the very least, are getting plenty of free clothes. Among them are Everleigh Soutas and Ava Foleyee, a pair of fashionable toddlers behind @foreverandforava who've been featured by the likes of Glamour and BuzzFeed. 
The two-year-old best friends have turned their Instagram fandom into modeling gigs for over 400 companies, Savannah Soutas, Everleigh's mother, told Mic. Modeling runs in the family (Savannah began modeling when she just three months old). But now, her famous tot's Instagram has turned into a full-time job, Soutas said.
"In between emails and pictures and editing the pictures and putting the outfits together, and organizing everything that comes in, it's like an all-day deal," she said.
The demand is real. Marlene Wallach, president of Wilhelmina Kids and Teens modeling agency, told the New York Post, "It's a boom time because children are no longer part of fashion — they are fashion," adding her agency has seen a 10% yearly boost in business since 2010. For the kids, that can mean anywhere from $100 to $1,500 per day for editorial or runway work, the Post reported.
Child models have always been a segment of the modeling industry, albeit a smaller one in decades past. The more troubling shift, some critics say, comes in the rare instances in which the kids appear to be sexualized, or when they enter their teen years and social pressure takes over. Media outlets should be careful for, say, applauding Johnny Depp's daughter, Lily-Rose, for her style, as Maxine Builder noted at Bustle.
"We should celebrate celebrity kids for experimenting and figuring out what they like to wear, rather than labeling them as 'style icons' before they're out of diapers," Builder wrote. 
Cute kids are cute kids, and placing them in adult-like clothing for contrast arguably makes them even cuter. But they're not actually adult style icons whose fashion choices we can judge, especially as they grow and start making those choices on their own. 
In the meantime, a few innocent Instagram likes here and there probably won't hurt — as long as the kids are the ones having the most fun.