Prince Just Released One of the Sexiest Hard Rock Songs We've Heard in Years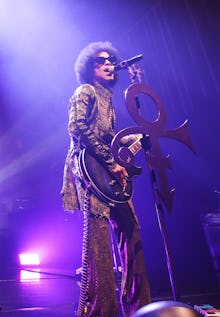 Few rock stars can summon funk so consistently irresistible like the ageless Prince. On his latest track, "HARDROCKLOVER," released Wednesday, he displays the full extent of his powers. It's one of the most intriguing jams we've heard from the Purple One in a while.
Source: Soundcloud
Over some agile slap-bass and contemplative piano chords, Prince weaves a tale about trying to seduce a hard rock-loving woman and "make her scream" with his guitar. 
He seems to take subtle shots at other genres he feels aren't pushing to make their fans feel this kind of ecstasy. "Ain't no rapper trying to be a singer," Prince sings. "Come on, make a move / Sade and Babyface / R&B ain't got no place / But put some hard rock on, you'd better cover your ears / 'Cus you're about to hear a woman just scream." It came with equally sexy cover art showing Prince straddling that alluring axe.
"HARDROCKLOVER" is Prince's first release since his epic protest anthem "Baltimore," where he asked resonant questions like, "Does anybody hear us pray / for Michael Brown or Freddie Gray? / Peace is more than the absence of war." In May, he brought the song right to the people who needed to hear it most, performing it at his Rally 4 Peace in Baltimore.
The way Prince can nail both the political and the provocative with equal expertise is what sets him apart and makes him the legend that he is. His most recent full-length may not have been his strongest effort. But for nearly 40 years, he's continually coming through with absolute fire. His latest singles suggest he really may be edging onto some new sounds. Here's to 40 more years of Prince.
h/t Vanyaland