Hillary Clinton Has Raised More than a Half Million Dollars Every Day of Her Campaign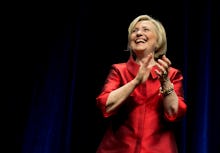 Hillary Clinton revealed in an email to supporters Wednesday that her campaign has raised more than $45 million since she entered the Democratic presidential race in April, the largest quarterly figure ever recorded by a candidate in a primary contest.
In a note emailed to supporters and posted to Twitter, Clinton thanked donors, while campaign chairman John Podesta, a former chief of staff to President Bill Clinton, said that 91% of the contributions were for $100 or less. The maximum personal donation is $2,700. The campaign did not share the total number of donors or the demographic breakdown.
Clinton is the clear leader in the clubhouse in the first quarter fundraising battle. Her average daily take, having entered the race 81 days ahead of the quarterly deadline, has been in excess of $550,000. 
Declared candidates are required to disclose their quarterly haul to the Federal Election Committee every three months. None of the Republicans in the field have made public their numbers for the period ending June 30. (The FEC reporting deadline is July 15.)
Underdog Sen. Bernie Sanders (I-Vt.), who has emerged as Clinton's most potent challenger in the Democratic contest, brought in more than $8 million through June 17, according to the New York Times. 
"I think we have gotten over 150,000 individual donations," with the average donor giving "$40 a piece," Sanders said in a June 11 interview on PBS' Charlie Rose. The campaign expects their final quarterly figure to exceed $10 million, about one-third of that coming in its first four days.
Game-changer? Clinton's ability to raise money has never been in doubt. In addition to the restricted funds she made public Wednesday, her candidacy will be supported by a super PAC, which can take in unlimited donations with no cap on contributions from private citizens, businesses or labor unions. 
The question now: How does Clinton plan to deploy her considerable war chest?
The depth of her donor base allows Clinton to play in every state, but expect Iowa, which hosts the first contest of the 2016 season, and New Hampshire, which follows close behind, to see a disproportionate number of ads, visits and rallies over the coming months. Despite Clinton's cash advantage, she has seen her lead in those states consistently diminish as Sanders builds momentum with his fiery economic message.
The graph below shows the gains Sanders won in June, when he cut his deficit in the Iowa polls by 15 points over the course of a little more than three weeks. Clinton now leads with a downward trending 50% to Sanders' 24% in the latest Bloomberg poll.  
Money is speech: On the stump, Sanders has been reluctant to attack Clinton directly, wisely wagering his most likely path to a nomination upset is paved with grassroots money and young, issues-obsessed volunteers. That is why his campaign has been so forcefully advocating for more debates. The Democratic National Committee announced on May 5 it would sanction six of them during the primary season. 
More debates means "we can take the issues that define our campaign — income inequality, taking on Wall Street, creating jobs — directly to voters across the country," Sanders said in a email to reporters on June 26. The campaign said then that more than 208,000 people had signed an online petition asking for more live showdowns. But Sanders is unlikely to get his wish. 
If the first 81 days of her campaign are any indication, Clinton might be the inevitable nominee after all.