7 Badass Female Athletes to Pay Attention to Right Now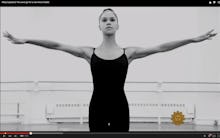 The FIFA Women's World Cup is underway, as is Wimbledon, and the American Ballet Theater just announced its principle dancers, all showcasing the stunning talent of remarkable women. But while countless men become household names for their athletic prowess, it is much harder for women to achieve the same level of recognition and appreciation for comparable skills. 
Here are just seven women the world needs to know about. They are all stunning athletes in their own rights, displaying talent and dedication which surpass almost all others. It's time they get the recognition they deserve. 
Misty Copeland 
This remarkable ballerina, known for defying stereotypes of what a ballerina should be, is becoming a household name with her unparalleled talent and fearless boundary breaking. As of Tuesday, she became the first black woman to ever reach the ABT's highest ranks as principle dancer. 
Copeland had far from an easy start and is the consummate example of rising in the face of adversity. She grew up in poverty as one of six children with a single mother. And, in 2001, a few months after she got accepted into the ABT ensemble at age 18, Copeland learned she had a lower vertebral fracture, which left her a brace for almost 23 hours per day and she couldn't dance for an entire year. But she persisted. 
After she recovered and returned to ballet, she increasingly felt the sting of discrimination, being one of the only black ballerinas to make it so far. "There were many people who seemed not to want to see black ballerinas, who thought that our very presence made ballet less authentic, less romantic, less true," she wrote in her memoir. And once again, Copeland refused to let that stop her.
If Tuesday's news is anything to go by, she won. She won every battle life presented her with and came out on top. The world awaits her debut as ABT's principle dancer. She will likely continue to defy stereotypes and limitations, just has she has in the past.
Alex Morgan 
You probably know her already. She has been a star player for the U.S. women's team during the World Cup this month, and as a skilled forward, she's has helped usher the team to the final game this Sunday. "Morgan brought movement, energy, speed and dynamism to the American attack," the New York Times wrote in June.
Her performance on the U.S. team during the FIFA U-20 Women's World Cup in 2008 in Chile put her on the map before she and the American women won gold at the 2012 Olympic Games in London. 
She's also a force to be reckoned with on and off the field, graduating early in 2010 from University of California, Berkeley, with a degree in political economy. To top it off, she is a published author of children's books.
Morgan with fellow stars Abby Wambach, Megan Rapinoe and the controversial Hope Solo will take on Japan on Sunday with hopes of winning the coveted cup.
Nicole Behar 
At just 17 years old, Behar is the highest-finishing female driver in the K&N West series at Irwindale Event Center, Southern California. 
In May, Behar was the only female driver selected among the 12 young people in the NASCAR Next Class of 2015, a title well-earned since by age 13, she had won six go-kart championships, including the esteemed International Kart Racing Federation Region 6 Gold Cup Series.
Then, in 2013, "Nicole became the youngest female to make the prestigious Montana 200 in Kalispell, Montana," according to her official website, continuing to break a number of different records until her recent induction into the NASCAR Next Class. 
In addition to her skills on the track, Behar is smart too. She finished high school a year early and is studying pediatric nursing at Eastern Washington University — speedy and responsible. 
Asisat Oshoala 
This 20-year-old Nigerian soccer forward is one of the youngest players in the Women's World Cup (though, sadly, Nigeria has been knocked out) and she is truly a formidable force. Though she lacked some of the resources her competitors had, learning to play under a noisy overpass in Nigeria, she became the first African to participate in the Women's Super League after being signed by Liverpool Ladies, an English club team, in January.
Oshoala then became the BBC Women's Footballer of the Year in May, an award chosen by fans worldwide. She noted how important the achievement was for her country. "There is going to be a lot of motivation for women's football in Nigeria now because of this award because there are a lot of fans out there," Oshoala told BBC. "Support for women's football in Nigeria is now growing very high."
In 2014, she played in the U-20 World Cup, in which she won the Golden Boot and Golden Ball; in six games, she scored seven goals.
This is just the beginning of Oshoala's career, so she will no doubt go on to craft her skill, collecting accolades along the way.
Louisa Nécib 
Nécib, 28, is one of the best female midfielders in the world and France is lucky to have her. She rose to fame during the 2011 Women's World Cup, when she spearheaded France's ascension to the semifinals. 
Born to Algerian parents in Marseille, Nécib remains proud of her heritage. "I certainly play for the French national team, but I never forgot my roots are Algerian," Nécib told Afrik-Foot in 2013. "I often come back to Algeria. It is a beautiful country where hospitality is everywhere."
Nécib is considered a national treasure and has been referred to as the female Zinedine Zidane, one of France's — and the world's — best male soccer players, now retired. The country affectionately referred to him as "Ziza" and France has assigned Nécib a female variant of the nickname, "Zizou." 
Mo'Ne Davis 
This ridiculously talented 14-year-old girl is a Jane-of-all-trades. Davis first became known for her 70 mph pitches in the Little League World Series, an unlikely accomplishment for a girl: More than 9,000 young people have participated since the tournament's inception and only 18 of those have been females, the New York Times notes. Because of her standout performance, Davis also became the only Little League player to be featured on the front cover of Sports Illustrated in August 2014.
But her gift doesn't stop at pitching. In February, Davis played in the NBA's All-Star Celebrity Game, by far the youngest player, and, despite the presence of MVPs like Kevin Hart, she still attracted most of the media attention. In June, Davis got drafted by the Harlem Globetrotters for her skills on the basketball court too. 
This girl is going places.
Petra Kvitova 
This left-handed Czech tennis player is already a star, the world just doesn't know it yet. "Petra Kvitova may be one of the lowest-key double Grand Slam winners in the recent history of tennis," wrote the BBC on Monday. 
Kvitova is quickly advancing during the ongoing Wimbledon tournament, in which she has already won two Grand Slam titles in 2011 and 2014, and she is currently seeded the number two women's tennis player in the world. 
Despite her talent and success, she has yet to become a household name. Her marketing agent, Marijn Bal, speculates it is because she is more low-key than her competitors. "Those girls are a little bit more outgoing, Petra is more humble, she is like the girl next door, approachable," Bal says.
Despite her humility, Kvitiova won't remain below the radar for much longer. With every Grand Slam title and tournament win, the world becomes increasingly aware of what a dark horse she is.