Plus-Size Modeling Is Having a Moment — Let's Not Waste It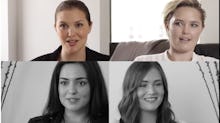 Plus-size models are clearly having a "moment." Thanks to social media campaigns — like Tess Holliday's #EffYourBeautyStandards, among others — and major brands featuring plus-size models in their ads, curvy women have arguably never enjoyed this much visibility in consumer fashion. 
But there's more to these apparent victories than meets the eye. The reality of how plus-size models fit into the bigger picture of the fashion industry is one that filmmaker Jenny McQuail and producer and model Jessica Lewis are taking on in a new documentary, Straight/Curve.
Though a trailer was recently released, the film itself won't come out for another year. In the meantime, Lewis and Heather Hazzan, a size 10 model and "healthy body image gladiator," spoke to Mic about the reality plus-size models face in the fashion industry, which the documentary intends to expose.
The label "plus size" itself is controversial.
"It's a great step forward that models in the current plus-sized category are now being used by major fashion labels, but it's a step backwards to have them constantly referred to as 'plus sized,'" the organization #DropThePlus states on its website. "But it's now time for complete acceptance. It's time to drop the label. They're all 'models,' no matter what shape or size."
The fact that plus size is a catch-all term that encompasses any model whose proportions exceed those of a straight-size model "infuriates and confuses people," Hazzan told Mic. "Women end up feeling even worse about their bodies, because the good majority of us are 'plus size' by these standards." 
Hazzan, as well as plenty of other high-profile models, have therefore embraced the call to banish this term — and reject labels altogether. 
"We want to be seamlessly integrated onto the main women boards at modeling agencies," Hazzan said. "Women are hungry to see themselves represented in fashion. Women come in more than just two sizes."
But until curvier models are not only afforded visibility, until the fashion industry and society at large can see plus-size models simply as models, Lewis cautioned, plus-size models may need to stick with the term and continue to "define and justify their beauty to an industry that has seen an extreme lack of diversity" for the sake of creating broader change.
The media may label them as "heroes," but models themselves may disagree.
While some may label these women as inspirational or brave, plus-size models don't see themselves as heroic. Instead, Lewis said these models are simply "confident in who they are," strongly believe beauty is subjective and may reject the idea of the "beauty [and] fashion industry setting standards for only one type of beauty."
But challenging dominant conceptions of beauty certainly shouldn't be underestimated, she said, and young women certainly have reason to look up to them. 
"I think everyone looks for a mentor or 'hero' in one form or another," Lewis said. "If curvy models can be that person for curvy women everywhere and in turn empower them and boost their self-confidence, that's wonderful, no?"
Ultimately, their goal is not to be lauded for getting high-profile work, but for that to be the norm.
"The day where we don't get so excited about seeing a plus-size model in a magazine is the day we've made it," model Georgina Burke says in the Straight/Curve trailer.
Straight-size models don't exist in opposition to plus-size models.
While the media may pit straight-size models against plus-size models, Lewis told Mic, she wants to set the record straight. "This revolution is about inclusivity and body acceptance," she said. Plus-size models don't view themselves (or should not be viewed) as lesser than or disadvantaged as compared to straight-size models, she said. In fact, they're even afforded valuable opportunities within the industry that straight-size models are denied.
"Models in general are oftentimes expected to be just their image," Lewis said, and this is especially true for straight-size models. "Much of the time, even though they are the face of a product, they aren't supposed to have an opinion or speak publicly about the brand they are modeling for." 
But clients are often more inclined to listen to plus-size models' thoughts on their brand, Lewis noted  — a phenomenon she hopes "finds its way to straight-size ladies and eventually becomes more commonplace in the industry."
The United States is way behind.
While the American media is arguably the most devoted to covering plus-size models, other countries are also supporting these women — and they're doing so in ways that may be generating real change. German, Italian, British and Australian catalogues have featured plus-size models for years, Lewis told Mic. Other countries, like Spain, France and Israel have passed legislation regarding models' body size. In the United States, little else has been done to regulate body standards and diversity outside of the Council of Fashion Designers of America posting a letter in February co-signed by legendary designer Diane von Furstenberg urging leaders in the industry to incorporate more diversity and encourage healthier practices. 
While this type of intervention is commendable, Lewis said, it may still be lacking. 
"This kind of strategy doesn't offer a viable solution for the fashion industry and how we can successfully integrate more diversity into all aspects of the industry," she said.
Beyond inspiring others, they have a concrete goal for how to shape the industry. 
The current sample size — or the standard size of clothes designers create for the runway and editorial campaigns — is a size 0/2 or 34-inch hip, according to Hazzan and Lewis. This size, therefore, is the one reflected in most media surrounding the fashion industry and largely "sets the bar for what the current trend is for beauty."
"The demand from the consumer is there to see plus-size models in magazines," Glamour magazine associate fashion writer Lauren Chan says in the Straight/Curve trailer. "The plus-size models are available at top agencies. What we're missing is that piece of clothing, that sample size, to fit them in to get them in book."
Making a larger sample size standard, therefore, would "give magazines and runways the ability to book [plus-size models] on jobs, which in turn would help them be seen as high fashion and open up the doors for a more inclusive beauty ideal," Lewis said.
Size diversity is hardly the only type of diversity the fashion industry must adopt.
"Whether it's the decision of the designer, stylist or casting director, that decision to use basically all white models reveals a trait that is unbecoming to modern society," fashion activist and former model Bethann Hardison wrote in an open letter in 2013. "No matter the intention, the result is racism."
Despite acts like these, the fashion industry's lack of racial diversity has persisted for years.  A whopping 79% of models featured in 2014's New York Fashion Week were white, according to Jezebel.  "The act of not choosing models of color is racist," Naomi Campbell said in a 2013 Channel 4 interview, noting that the problem only seems to be getting worse. "We're basically trying to say, 'Be aware.'" Mic's own 'Flip the Script' series tackled the issue in its pilot episode in March and just this Monday, Nykhor Paul, a model from South Sudan, wrote about the racism she still faces in the fashion industry on Instagram.
Ultimately, co-founder of the Jag Models agency Gary Darkin sums up the state of the so-called plus-size revolution in the Straight/Curve trailer. "I don't call this a movement," he says. "I call this an evolution."
It's clearly time for the fashion industry to embrace this evolution and commit to increasing diversity within its ranks. Hopefully by revealing these truths, Straight/Curve will encourage it to do just that.