This 7-Year-Old Girl Completely Shut Down A Homophobic Preacher With a Rainbow Flag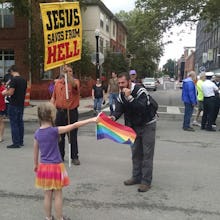 Whether they come from J.K. Rowling, Ellen Degeneres or Tyra Banks, the Internet loves celebrating major celebrities' epic responses to homophobic haters. But one first grader just proved that sometimes, the most powerful statements are also the simplest.
The day after the Supreme Court ruled in favor of marriage equality, Ryan Bowling took his daughter Zea to ComFest, a family-friendly music festival in Columbus, Ohio — hardly a political event, he noted on YouTube. But even so, a preacher decided to take the opportunity to accost festival attendees with "graphic, and bigoted" rhetoric. 
"You can live a life that's filled with His redeeming power," the man yells at the young girl. "You'd have somebody to look after you and love you and get you through your life." 
In response, Zea simply holds a gay pride flag in his face.
"They went toe to toe, for several minutes, while he bellowed all of his fire and brimstone right in her face," Bowling wrote in a Facebook post. "She told me afterward that she did feel scared. The one thing the people of #comfest2015 never let her feel though? Alone."
Bowling's observation is clear from the video, as other ComFest attendees make a point to high-five the young girl for her courageous stand.
Hopefully we'll move toward a future in which first graders will learn about homophobia in their history books rather than face it on the street. But until then, we're lucky to have girls like Zea willing to fight to get us there. 
Watch the full video of her awesomeness below:
h/t Huffington Post