Duggar Family to Face Civil Suit From Non-Family Accuser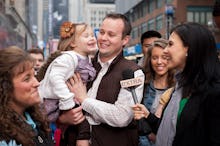 The Duggar scandal may not yet be over.
Another person plans to file a civil suit against former Family Research Council executive and 19 Kids and Counting star Josh Duggar over allegations of child molestation, reports In Touch magazine. It's not a Duggar, but an as-of-yet anonymous person who knew the family in the past.
In Touch magazine reports since the criminal statute of limitations for the alleged crime has expired, Duggar and his parents Jim Bob and Michelle Duggar will not be able to claim Fifth Amendment protections against self-incrimination that could shield them from being called to testify. Similarly, any senior members of Duggar-affiliated ministries could be ordered to testify about whether they knew of the abuse and whether they had assisted the family in covering it up.
In Touch magazine was the first publication to report on the original allegations of Duggar's past, including obtaining the original police report. Since then, the authorities have opened investigations into the Duggar clan, and TLC canceled the Quiverfull-themed Duggar TV program in May.
Any such suit would rip back into the open the previous allegations that Duggar molested his younger sisters, which the family (and even the victims) have attempted to rationalize or explain away as the actions of a confused young man who regrets his actions. Jim Bob Duggar even told Fox News anchor Megyn Kelly that Josh Duggar's sisters "didn't even know he had done it," a claim that seems refuted by the existence of another possible victim.