Stephen Colbert Interviewed Eminem on Public Access Television in Michigan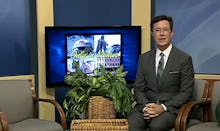 What on earth is Stephen Colbert doing before The Late Show with Stephen Colbert launches? Apparently, whatever the hell he wants.
In a bizarre video uploaded to the Late Show's official YouTube account (and first reported by the Verge), Colbert appears to guest host a public access cable show in Monroe, Michigan. The show, Only in Monroe, is actually real, as are the hosts he interviews in the video. But the strangest bit of all involves an interview with Michigan's own Marshall Mathers — also known as Eminem.
The entire thing is unbelievable. Literally. Even while watching the video, what's happening cannot be believed. Colbert was always one for experimental bits on The Colbert Report, but this is really taking things to a new level. Try to say this sentence out loud without laughing: Stephen Colbert painted his nails with the hosts of a public access television in Monroe, Michigan.
Any concerns Colbert might not be as weird out of the "Stephen Colbert" character he created on The Colbert Report can now be fully put to rest. He's just as delightfully strange as he's always been. We wouldn't want him any other way.
Watch the full, ridiculous video below.