Can You Guess Which of These Photos Got Banned by Instagram?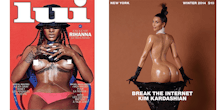 This week, model Chrissy Teigen joined the growing movement to #FreeTheNipple, posting a photo from a W magazine photoshoot that showed her draped over a '70s-era armchair, with knee-high boots and a boob on display. It was promptly removed by Instagram. 
The popular photo-sharing platform has a history of strict censorship rules, banning everything from hashtags — good luck finding the eggplant emoji — to certain photos themselves, and Teigen was the latest high-profile user to run up against its policies. But rather than sit back and accept the censorship, Teigen took the opportunity to make a brilliant point about the inconsistent nature of the app's guidelines. 
She posted a series of digitally altered versions of the same photograph, most of which made the original photo look more "artistic." Instagram's policy, after all, allows for "nudity in photos of paintings" — a ridiculous and oddly specific rule that's more confusing than it's worth. Despite the company's attempts at making its censorship policies easier to understand, it's still a minefield out there. (Teigen's digitally altered boobs are now gone as well.)
But Teigen's photographic tinkering experiment isn't the only evidence of Instagram's often arbitrary policies. Below, we've put together nine photo comparisons, each as seemingly racy as the other. Can you guess which ones Instagram decided to knock out? (Warning: NSFW material ahead.)
1. Rihanna vs. Kim Kardashian
Which one got banned: Rihanna
Instagram says it doesn't allow "close-ups of fully nude buttocks." It also says it doesn't allow photos of nipples. But somehow, Kardashian's Internet-breaking photo was allowed to stay, whereas Rihanna's was taken down and led her to bounce from the platform for a time. 
2. Chelsea Handler vs. ALL THE PORN
Which one got banned: Handler
As Talking Points Memo found, hashtags like #boobs fill up with NSFW images, then get shut down and pop back up again as, say, #boooobs — again filled with porn. And Instagram's censors can have a tough time, because some of it, like the blurred image above, is posted with little more than tiny pink dots acting as modesty shields.
Handler received her ban for a photo in which she expressly decried Instagram's nipple-hating policies. After her topless photo was removed, she posted a photo of the warning, writing, "If a man posts a photo of his nipples, it's OK, but not a woman? Are we in 1825?" Yet an Instagram handle, @pretty_titties_submissions, posts what essentially amount to topless photos, but it hasn't seen Instagram's wrath.
3. Teigen vs. boob cakes 
Which one got banned: Teigen
As Instagram shut down Teigen's imitation pencil-and-paper renderings of her W photo, she might have considered a different artistic way to get past the censors: making a cake version of her breasts. Instagram allows photos of cakes shaped like remarkably anatomically correct breasts, nipples included. 
4. The artist Pebbles vs. the artist Sarah B. Whalen
Which one got banned: Pebbles' topless illustration
Pebbles' work is slightly less explicit than Whalen's erotic art, yet the former has seen her work stripped from Instagram more than once. Now, if she posts illustrations that feature nipples, she censors them with stars or hearts — and adds a caveat that an "uncensored version" is still available. 
5. #FreeTheNipple vs. #FreeTheNipples
Which one got banned: #FreeTheNipple, Miley Cyrus edition
Cyrus is an avid supporter of the #FreeTheNipple campaign. She's posted more than one topless shot to her Instagram page. Yet while hers have been taken down, other posts — ones that contain actual sexually explicit material, like this video we've blurred above — are still floating around, many under the near-identical hashtag #FreeTheNipples.
6. Menstruation vs. a bloody lip
Which one got banned: Menstruation 
A natural bodily function that happens to half the population shouldn't be reason to take down a photo, but that's what happened when Rupi Kaur posted a photo of menstrual blood to her Instagram page. Kaur rightly pointed out that the photo didn't violate any standards; Instagram later apologized, telling BuzzFeed "we wrongly removed content and worked to rectify the error as soon as we were notified." Meanwhile, men who get into violent fistfights can openly post photos of their cut-up faces with no fear of retribution. 
7. Breastfeeding vs. breasts
Which one got banned (though later unbanned): Breastfeeding
Though the breastfeeding photo above does not show any nipple, it was still banned — unlike the photo next to it and this one (NSFW), boob close-ups that are about as sexual as you can get without full-on nudity. The good news: The outcry against banning breastfeeding photos was so strong that Instragram reversed its policy.
8. Female pubic hair vs. male pubic hair
Which one got banned: Female pubic hair
In January, Mic's Elizabeth Plank highlighted the ridiculousness that comes with banning photos showing pubic hair poking out. The people behind the image, an Australian husband-and-wife duo who run an agency called Sticks and Stones, noted the image wouldn't have run into issues if it featured men — which is exactly the case with the much more graphic photo above.
9. Scout Willis' T-shirt vs. a photo of a couple appearing to have sex
Which one got banned: Willis
Willis' photo showing a shirt with two topless women was taken down, while a photo of a photo of actual (or simulated) sexual intercourse remains on the platform. (Willis retaliated by taking a topless stroll through New York City and posting evidence on Twitter.)
We're not advocating for Instagram to turn itself into a glorious porn emporium, but rather that the censorship standards become a little less arbitrary and a lot more consistent. While Instagram has apologized in the past for its random banning, and can only do so much with the people working on the censorship team, it's been an issue for a long while. It's one of the biggest and most popular photo-sharing platforms in the world — it's about time for a change.