Here's How to Spend Your Fourth of July Watching Nothing But "American" TV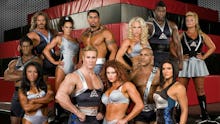 There are a lot of shows about America on American TV. There are even more shows with the word "America" in the title on TV. How many, you ask? Almost two dozen.
From the pure athleticism of American Gladiators to the chilly intensity of The Americans, there's something for everyone in the "America" of TV. But this Fourth of July presents a chance to get the best of all worlds. You can watch almost all of them in one full day — and we're here to help you with what to watch, when and where.
This is Mission America, our campaign to watch nothing but TV shows with "America" in the title for 24 straight hours. Our journey begins at 4 a.m. — you've got to start your Fourth of July festivities early, after all, with a blast of female empowerment on America Ninja Warrior.
We're starting with a YouTube playlist so you can watch from bed. (No one said it had to be an easy early start.) Once you've moved on to showering and getting ready, throw on American Chopper — you'll hear the roar of the motorcycles over the water running. Then, when you're making breakfast, turn your eyes to America's Test Kitchen. Their comfort food episode will inspire your dining.
Finish eating and grab a mimosa for Good Morning America on ABC. You'll want something light and fluffy as guests arrive – you're not doing this alone, right? If you are, grab a pillow with your alcohol: You'll need some comfort to get through the tense pilot of American Crime.
We're ending the morning on some fun notes. First, pull up America's Funniest Home Videos' first episode on YouTube. You want the Bob Saget hosting experience, not the Tom Bergeron one of later years. Finally, for a chuckle as you fire up the grill, watch America's Court with Judge Ross' "Llama Drama" episode.
Eating fatty foods is the perfect opportunity to watch other people exercise, so throw on the second season premiere of American Gladiators' 2008 revival. Follow it up with an episode of Disney Channel's American Dragon: Jake Long for the kids at your party. (Make sure the kids are gone by, say, 10 p.m. You'll see why.)
At 2 p.m., we're watching the greatest episode of America's Next Top Model ever. You know the one, right? No? We were all rooting for you! Learn something from this and watch Tyra Banks lose her mind at a contestant. It's one of reality TV's most delicious, iconic moments.
NBC just canceled American Odyssey, so pour one out and watch the first season finale. It's not like you should waste time watching anything but the ending, after all. Then watch the excellent season one finale of America's Best Dance Crew on MTV's website. If that's too intimidatingly athletic, don't worry: The lovely, quiet drama American Dreams is next. Entertain your guests while you prepare dinner with some impressive auditioners from this most recent season of America's Got Talent.
In lieu of saluting the flag with the national anthem, pay tribute to our national treasure by watching Kelly Clarkson's first season run on American Idol. Feel free to kill time before 9 p.m. with random Carrie Underwood performances too. We recommend "Alone."
After that, stock up on drinks and watch the double-header of FX's chilly The Americans and terrifyingly campy American Horror Story: Coven. The latter should appeal to those of you who knew the Tyra Banks quote — this is the episode that includes Emma Roberts' Tumblr-famous "Surprise, bitch" line. Then decompress by watching the incredibly light America's Most Smartest Model season finale.
Ring in July 5 with a Fourth of July-themed episode of American Dad! (Fourth of July: the holiday of denial.) Then get angry at the wealthy by watching a particularly incendiary episode of American Greed. 
Finally, as we started with the women of American Ninja Warrior, we should end with more female empowerment: the two-hour-long American Masters episode about tennis powerhouse Billie Jean King. After a day of ninjas, gladiators, spies, dancers, models and witches, this real life titan towers above them all.