Teen Vogue Put 3 Very Special Models on a Cover — and Other Magazines Should Take Note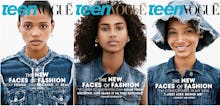 It shouldn't be news when a young black woman makes a magazine cover. But given the fashion industry's shameful habit of highlighting a minuscule number of models of color, it is. In fact this time, it's a news story three times over.
Teen Vogue's August cover spotlights three new "faces to watch" in modeling — and they're all women of color.
On Wednesday, the magazine unveiled Imaan Hammam, Lineisy Montero and Aya Jones, fresh-faced and gorgeous in a series of photos — including the cover photos — by photographer Daniel Jones. And while their faces look calm and content, they may represent a sea of change.
Countering fashion's diversity problem: It's no secret that seeing a cover like Teen Vogue's is rare. Jourdan Dunn made headlines in February when she landed a spot on the cover of British Vogue, becoming the first black model to do so in 12 years. 
Fashion has long had a problem with featuring diverse faces in runway shows, ads and magazines. The representation on the all-important covers is particularly egregious: The Fashion Spot examined 44 print magazines worldwide and found white models appeared 567 times in 2014 while people of color made 119 cover — almost a fivefold difference, the site noted. 
With that context in mind, it's all the more significant Teen Vogue choose a group of nonwhite models who each embody a different kind of diversity — ethnic, cultural, racial, even linguistic. Hammam, 18, is a trilingual Egyptian-Moroccan; 20-year-old Jones is a French-speaking French-Ivorian; and Spanish-speaking Montero, 19, hails from the Dominican Republic, according to Teen Vogue. 
Getting honest about identity: Showcasing diverse faces is one thing. Getting honest about racial identity and the industry's issues with it is even more powerful — and Teen Vogue's been leading in that area too.
"Embracing and promoting diversity has always been a priority for Teen Vogue. As an editor of color, it's exciting to be a part of pushing that initiative forward with stories like this," Elaine Welteroth, Teen Vogue's beauty and health director and the editor behind the cover story, told Mic.
"Sometimes people call me Middle Eastern, and I'm like, 'No, I'm black.' I am proud of my culture, proud of who made me, proud to be here," Hammam says in this month's cover story. In an accompanying video, spliced among footage of the young models hamming it up, Hammam also opens up about being bullied for her appearance (she was told she looked "off"), while Montero says she was bullied because of her short, cropped black hair.  
"Like my grandmother used to say, I'm the one that's wearing it, so if I feel good with it, then what other people say doesn't matter," she says to the camera.
The cover has echoes of Chanel Iman and Jourdan Dunn's joint November 2010 cover, notable back then too for its "diversity." One key difference: Iman and Dunn's careers were already taking off, meaning they were getting increasingly vocal about not only their identities, but the industry's issues:
"I remember last season," says Jourdan, "I was about to go into a casting, and my agent phoned and said, 'Turn back. They decided they don't want any black models.' I was like, 'They're actually telling you that's the reason? Are you serious?!'"
Chanel added that the limited spots for models of color can lead to a competitive atmosphere ("You're being told, 'So and so is only booking one black girl. It's either you or Jourdan,'" she told Teen Vogue). 
It's a persistent problem, one Iman brought up again in a 2014 cover story for Net-a-Porter's The Edit. "All three of us models [Dunn, Iman and Joan Smalls] are very successful in our careers, but because in the fashion industry 'there's only one black girl allowed,' they've made us compete to be that one girl," she said. 
Dunn also told the Guardian that, "The people who control the industry ... say if you have a black face on a magazine cover it won't sell, but there's no real evidence for that. It's lazy."
Notably, you don't hear that kind of talk from Hammam, Jones and Montero in their cover story. Rather, Teen Vogue's Elaine Welterworth notes, "When you get them all together for their first Teen Vogue cover shoot, don't expect any philosophical discussions about breaking barriers."
That may be because they're so new to the biz, they haven't yet encountered the challenges Dunn and Iman speak so candidly about. 
More optimistically, perhaps their inclusion, along with the likes of Dunn, Iman, Smalls and other rising names like Malaika Firth and Herieth Paul in more magazine spreads and campaigns, represents a slow but substantive shift in an industry that can only get more diverse. Maybe Hammam, Jones and Montero will even lead the way.
"There is so much pressure for young women to conform in order to fit a certain type of beauty ideal," Welteroth told Mic. "Our cover stars are not just stunning beauties, they are role models. We hope that young readers feel empowered to own who they are and to not let anything stand in the way of their dreams." 
This story has been updated to include comment from Teen Vogue editor Elaine Welteroth.
h/t Fashionista