Rihanna Just Achieved What No Other Artist Has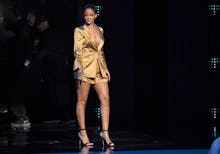 Not Taylor, not Katy, not Beyoncé — the woman running pop today is Rihanna. On Wednesday, she officially made music history her bitch by officially earning over 100 million platinum and gold song certifications in America. No other artist is even close. Bow before the almighty RiRi, and give her your money.
So much gold. "Gold & Platinum is the industry's premier way to celebrate achievement in the marketplace," Cary Sherman, chairman and CEO of Recording Industry Association of America, said, according to Billboard. "We've given awards to artists for nearly 60 years, but it's rare that we have the opportunity to recognize a milestone like the one Rihanna has reached. Congratulations to Rihanna! She has not only surpassed RIAA's 100 million mark, but also is the first artist to do so. It's an historic feat and a testament to an extraordinary career."
Gold represents 500,000 records sold; platinum represents 1,000,000. The RIAA added diamond status in 1999 to represent 10 million, though only one of Rihanna's singles is currently close to snagging one of those — her EDM epic, "We Found Love." 
The RIAA has never had to come up with an echelon to represent any sort of 100,000,000 mark. Perhaps we can let Rihanna do the honors, since, as she reminded us on Instagram celebrating her achievement, she's the only one stacking those kinds of 0s in terms of single certifications right now.
So many hits. This achievement rides on the back of 37 undeniable hits, with several earning multiple awards. "Stay," "What's My Name" and "Only Girl (In the World)" brought home six platinums apiece. Her recent "FourFiveSeconds" is double platinum and "Bitch Better Have My Money," which also released a new video Wednesday, already has platinum status.
This milestone follows another huge achievement Rihanna earned on Billboard's charts in June, when "Bitch Better Have My Money" became her 23rd song to hit number one on the Dance/Club charts. With that, she surpassed Beyoncé on the ranking of most number ones. Who's the queen now?
RiRi cannot be stopped. She is making history left and right, all while launching a new fashion line and putting the finishing touches on what may be a truly groundbreaking album. The sooner all these roll out the better. All our money belongs to Rihanna.
h/t Popjustice