Donald Trump Is Having the Worst Week Ever: Hotels Reportedly Targeted by Hackers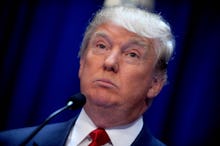 It's not a good week to be Donald Trump.
On Monday, the human tangerine smear was dumped by NBCUniversal, one of the largest media conglomerates in the world, for his racist comments about Mexican immigrants. On Wednesday, Macy's announced they were ousting Trump and his menswear collection for the same reason. Now, the cherry on top of Trump's shit sundae has dropped: His fancy hotel chain was reportedly targeted by credit card hackers.
According to Brian Krebs, an independent journalist who also broke the news of Target's massive data breach, Trump hotels in various American cities, including Chicago, Honolulu, Las Vegas, Los Angeles, Miami and New York, are facing a credit card breach going all the way back to February. The attack apparently came to light after a series of "fraudulent debit and credit card charges" that targeted people who had stayed at hotels in the Trump Hotel Collection, a chain of global luxury accommodations.
The company hasn't yet confirmed the incident, and details on the number of people affected, as well as the severity of the compromise, have yet to come out.
In response to the claim, Eric Trump, executive vice president of development and acquisitions for the Trump Organization, told Politico the company was looking into the issue.
"Like virtually every other company these days, we have been alerted to potential suspicious credit card activity and are in the midst of a thorough investigation to determine whether it involves any of our properties. We are committed to safeguarding all guests' personal information and will continue to do so vigilantly," the younger Trump said.
Donald Trump's presidential campaign, meanwhile, did not respond to Politico's request for comment.
As Krebs points out, the Trump hack would not be the first security breach to target a major hotel chain. The Mandarin Oriental reported a breach in March, and in April, hotel management company White Lodging confirmed a second security breach that followed a separate incident in 2014. 
But while Trump hotels aren't alone in battling security issues, the report certainly isn't welcome news in light of every other recent disaster to hit Trump's personal brand and ill-fated campaign for the presidency, including a bizarre interview with Don Lemon in which he attempted to defend his racist comments by declaring, "Somebody's doing the raping, Don."
On the bright side, at least the Donald has his beloved Miss USA pageant to look forward to. Oh, wait.