The Internet Has Spotted a Huge Problem for Donald Trump's Own Clothing Line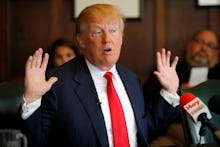 Donald Trump is in hot water yet again.
After describing Mexicans as rapists, drug dealers and criminals during the launch of his presidential campaign, it turns out they're still good enough to make his clothes. "They're bringing drugs, they're bringing crime, they're rapists," Trump said of Mexican immigrants during his June 16 campaign announcement.
But as Trump has doubled and tripled down on his comments about Mexicans, some people have noticed a particularly ironic problem for the businessman. On Tuesday, Facebook user Mary Cummins posted a picture of a label from Trump's clothing line, which revealed his very own products are manufactured in Mexico, by Mexicans. 
Of course, the Internet didn't waste a second to get to work. Trump is the gift that keeps on giving for social media ridicule, and the Twitterati were quick to out Trump for his hypocrisy. "I guess those Mexicans are OK," one of them sarcastically wrote.
The emperor's new clothes. Aside from mockery, Trump has paid a literal price for his racist remarks against Mexicans. NBC severed all ties with Trump on Monday, and Macy's followed suit two days later.
"We are disappointed and distressed by recent remarks about immigrants from Mexico," Macy's said in a statement. "We do not believe the disparaging characterizations portray an accurate picture of the many Mexicans, Mexican-Americans and Latinos who have made so many valuable contributions to the success of our nation."
In an attempt to save face, Trump posted a statement on his Instagram account on Wednesday, which claimed he was the one dropping Macy's, not the other way around. 
While he didn't address the issue of Mexican criminals manufacturing his clothes, he did have something to say about the Chinese. "I have never been happy about the fact that the ties and shirts are made in China," Trump wrote in the same statement.
While running for president might have once looked like a good opportunity for publicity, Trump's words are hurting him financially and getting him in a deeper hole every day. This downward spiral is a sign, at least, that major corporations and large swaths of the social media population are coming to Mexican immigrants' defense. Despite how dangerous they are, many Americans seem to prefer Mexicans over the Donald.