Watch the NSFW Revenge Fest That Is Rihanna's "Bitch Better Have My Money" Video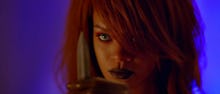 Nobody makes being bad look so good like Rihanna. At midnight on Wednesday, she premiered her latest video, for "Bitch Better Have My Money," and it's hell of a ride. An orgiastic blur of drugs, torture and nudity, it's about as unsafe for work as pop videos get. Every moment is so deliciously evil.
From the very opening scene — which cuts back and forth between a prissy trophy wife walking around in a sheer bra, to shots of Rihanna carrying a heavy trunk up a stair case — one can tell the video is about to pop off crazily.
Rihanna kidnaps the woman and tortures her through a variety of strange and unusual methods, while trying to ransom her. Rihanna hangs her upside-down, naked, fitting a cruel grill into her mouth:
She force-feeds the woman liquor and marijuana:
Then she pulls out the big guns to get at the bitch who has Rihanna's money, a man introduced as "The Accountant aka 'The Bitch.'"
We've been waiting a long time for this video. The song was released all the way back in March. The lack of an accompanying video had publications like Idolator saying Rihanna's promotional team had dropped the ball. Now we can see why her team waited: They were making an epic of Godfather proportions. 
It's just the cherry on top of Rihanna's recent tear through the music industry. Back in June she surpassed Beyoncé for most No. 1 songs on the Billboard Dance/Club charts. On Wednesday, she achieved a milestone no artist has ever reached before, earning 100 million gold and platinum RIAA certifications. She'll be capping all that off soon with what seems to be a radically innovative pop album. 
All the wait we've gone through for that album and this video is worth it for the video's final shot, where we see Rihanna lying among the spoils of war. Slay, Rihanna, literally slay.