16 Beautiful Photos Reveal a Side of Muslim Beauty That the U.S. Never Sees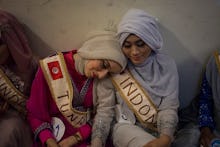 Indonesian TV presenter Eka Shanty is perhaps best known for losing her job after refusing to remove her headscarf on the air. But she's been busy building a legacy for herself and Muslim women around the world since founding the Miss Muslimah World competition in 2011. 
In 2014, photographer Monique Jaques attended the pageant in Yogyakarta, Indonesia, and found that the pageant — or, "Islam's answer to Miss World," as Shanty has called it — is quite different from what it might seem.
"I thought the contradiction of having a Muslim beauty pageant was so interesting and unique," Jaques told Mic of her decision to attend. The photographer's work has previously examined "modesty and society and the relation young [Middle Eastern] women have with those two ideas," she noted, and this competition seemed a ripe opportunity for such exploration. 
While the competition recreates many traditional American beauty pageant rituals, some key differences honor Muslim values. Most notably, participants wear headscarves, there's no swimsuit competition and women's "inner character and other Islamic values such as charity, piety and intellect" are prioritized over looks, Jaques noted. 
While the pageant could simply exist as a conservative alternative to Western-style pageants, those involved with Miss Muslimah have spoken critically about competitions like Miss World. Western pageant participants "expose their bodies," Obabiyi Aishah Ajibola — the 21-year-old winner of the 2013 pageant — told NDTV.com
"This year we deliberately held our event just before the Miss World final to show that there are alternative role models for Muslim women," Shanty added. "Muslim women are increasingly working in the entertainment industry in a sexually explicit way, and they become role models, which is a concern." 
Certainly, Ajibola and Shanty are not alone in these beliefs: Protesters echoed these sentiments when they crowded the streets of Indonesia in opposition to the Miss World contest held there in 2013.
But it's still a beauty pageant: Despite attempts to buck Western beauty standards, Miss Muslimah appears not to have yet fully liberated itself and its contestants from them.
The pageant itself is sponsored by a cosmetics corporation, and contestants were even given skin lightening creams as a result of this partnership, Al Jazeera reported in 2014. Jaques observed that contestants wore makeup and nail polish, and were certainly concerned with the way their outfits looked, for example.
"To say that because a girl wears a headscarf she is immune to the way society thinks, reacts and judges — that's naïve," Jaques said. "Women in the Muslim world still struggle with body issues, just like we do. Beauty is a powerful force, and simply because women don't show it all doesn't mean it's not relevant."
A pageant with purpose: Despite this apparent contradiction between the pageant's values and the reality of participants' experiences, Jaques said she still believes the pageant does much to counter stereotypes about Muslim women. The event affords contestants with a largely unparalleled platform to speak about serious issues, she said. Miss Bangladesh, an obstetrician, spoke about the appalling reality of maternal mortality and women's health care in her country, for example, and Miss India decried women's lack of access to education in her country, according to Jaques.
"These issues, and the girls fighting for them, challenge the way we think about Muslim women — they're not meek followers," the photographer told Mic. The contestants were a "wonderful collection of strong women with clear ideas about who they were and what they wanted to achieve. They are strong, educated women working for a cause and using every platform available to speak about it. I admire them and the determination they have."
While the pageant may have its problems, Jaques ultimately finds Shanty's work commendable. 
"She wanted to show another side of Islam and she has," the photographer said. "She has given a voice to many girls, as well as the contestants who come from around the world."