Here Are 10,000 Reasons to Start Taking Bernie Sanders Seriously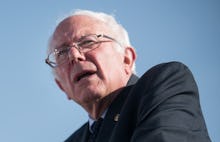 Bernie Sanders is a self-avowed democratic socialist. The Vermont senator wants to elevate the poor and tax the rich. He wants the government to be big. In a nation as enamored of capitalism as the United States, beltway pundits would have you believe that the call for "political revolution" in Sanders' quest for the White House is irrelevant. 
But right now, the crowds suggest otherwise.   
On Wednesday, Sanders spoke in front of a crowd of nearly 10,000 people at a stadium in Madison, Wisconsin, according to CNN, making it the most impressive turnout for a candidate in 2016 so far.
"Tonight we have made a little bit of history," Sanders said, according to CNN. "You may know that some 25 candidates are running for president of the United States, but tonight we have more people at a meeting for a candidate for president of the United States than any other candidate has."
Here's what it looked like:
Sanders may not be quite right when it comes to "that little bit of history." Ted Cruz's opening campaign rally at Liberty University in March addressed an estimated 11,000 students — but attendance was mandatory. It's safe to say that Sanders can claim the title of biggest organic crowd of 2016. 
It's important to remember where exactly Sanders drew all the attention. Madison is a bastion of progressive activity in the Midwest, and the city is brimming with people who have likely been fond of Sanders and his left-wing agenda since well before he began his presidential run.
It's also not a city that has any bearing on his performance in the primaries beginning in February of next year. But as Jonathan Topaz notes at Politico, that's because Sanders's bid for the White House is also an attempt at sparking a broader movement: 
Rather than single-mindedly chasing votes across New Hampshire and the 99 counties of Iowa, Sanders has instead embarked on a swing through the progressive heartland, designed to generate big crowds and a national liberal groundswell behind his candidacy. ... The idea is to barnstorm the nation's most progressive cities in the hopes of attracting field organizers, small-dollar donors and, most importantly, the kind of media attention that insurgent candidates are typically starved for.
It's a clever strategy — and perhaps the only strategy — for a candidate vying with a presumptive frontrunner who is earning half a million dollars every day of her campaign. Sanders hasn't been able to, and won't be able to, compete on the big-donor financing front with Hillary Clinton, and so he must must gin up support through grassroots networks. In that realm, symbolic victories and momentum are crucial for convincing ordinary voters to consider donations.
So far, it's working. The latest Quinnipiac University poll puts Sanders within 20 points of Clinton among likely Democratic caucus-goers in Iowa. That's a big disparity. But in May, the gap was 45 points.