The Unexpected Reason Why America Ferrera Just Thanked Donald Trump for His Racist Remarks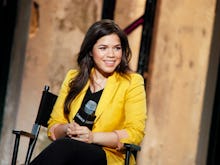 Hispanic actress America Ferrera published an open letter Thursday to Donald Trump in the Huffington Post thanking the tycoon for his racist remarks at the launch of his presidential campaign.
If that seems strange, it should — but Ferrera makes some points worth hearing.
"You see, what you just did with your straight talk was send more Latino voters to the polls than several registration rallies combined! Thank you for that," she wrote. "Remarks like yours will serve brilliantly to energize Latino voters and increase turnout on Election Day against you and any other candidate who runs on a platform of hateful rhetoric."
In the powerful but reserved letter, Ferrera thanked Trump for his remarks, arguing they will galvanize Latino voters into action and reminding the mogul his comments were also a tactical mistake, given the collective voting power of Latinos. 
"Latinos are the largest, youngest and fastest-growing constituency in the United States of America. That's right! You are running for president in a country where the Latino population grew by over 49% from 2000-2012, while the rest of the country grew by 5.8%." 
Ferrera also argued winning any national nomination would be nearly impossible without the support of the Latino population, which, given the rising number of Latino voters in the United States, is hard to dismiss.
"Thank you for reminding us that there remains an antiquated and endangered species of bigots in this country that we must continue to combat," Ferrera wrote. "Thank you for reminding us to not sit complacently at home on election day."
Ferrara's words are a response to what Trump said during his official presidential campaign launch in June, when he described Mexican immigrants as criminals, drug dealers and rapists. "They're bringing drugs, they're bringing crime, they're rapists," Trump said. Subsequent backlash for his comments included Macy's and NBC's termination of all contracts with him. 
After the termination of two major business deals, Trump's retort reinforced his stance: "Clearly, NBC and Macy's support illegal immigration, which is totally detrimental to the fabric of our once great country."
However, Ferrera's letter offered a more comprehensive version of patriotism than Trump's and she also reminded him about American history, a country which was founded and created by immigrants. 
"No, Mr. Trump, you may not reduce us to drug dealers and rapists," she wrote. "We are moms and dads, sons and daughters. We are valedictorians and honor students. We are college graduates, bankers, police officers, entertainers, teachers, journalists, politicians and we are the future of America."
God bless America. 
Read the full letter at the Huffington Post.