These Super Shoppers Have Figured Out How to Never Pay Full Price. Here's How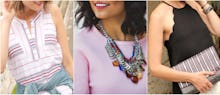 There are "shopaholics" who are, by definition, addicted to shopping. There are also "bargain hunters," who are ready to just buy, buy, buy anything at a good deal. Then there are the "super shoppers," who deserve their own category altogether.
They're the shoppers who don't buy just to buy, and who don't go after every sale simply because it's a sale. They do their homework and wait patiently to pounce. They shop with a strategy in mind — and they save a s**t ton of money while doing it.
Among them are people like Kimberly from Penny Pincher Fashion and Claudia from The Penny Closet, who each began blogging years ago after friends and family kept asking how they stayed so stylish on a tight budget. But they're not alone. Mic spoke with several women who have mastered the art of a good buy through careful strategizing.
These women aren't professionals, exactly, but treat their shopping like they are. Here are the strategies that any modern shopper worth her (or his) wallet and Wi-Fi connection can use when it comes time for a wardrobe update.
1. Know what's actually in your closet.
It sounds obvious, but surveys have found we wear as little as 20% of what's in our closets, meaning there's plenty in there we may overlook or forget about — and plenty we can get rid of. Before adding any items to your closet, it's crucial to take inventory of what you already own, so you can shop with a focused goal. 
Kimberly of Penny Pincher Fashion told Mic via email that she sells off older items using apps like Poshmark to begin with a cleaner slate each time. "Then I evaluate what's left and determine if there are any gaps in my wardrobe, items that need to be replaced or pieces I'd like to have for the coming season," she said.
2. Shop when no one else is shopping.
Shopping in the wee hours of the day when a store has just opened, Kimberly said, means getting to see fresh inventory as it arrives. That's particularly useful at discount stores like TJ Maxx and Ross, which only carry a limited number of each style.
"What it comes down to is paying close attention to when sales are happening, taking lots of time to browse for the things you want online and being an early shopper," Kimberly said.
Yasmine, a twenty-something who works in retail, told Mic that the best time to shop is in January and June, because companies usually have semi-annual and back-to-school discounts in stores. Moreover, certain days of the week are better for certain sales, as reports have shown (handbag sales on Thursdays, for example). Speaking of which... 
3. Know the websites of your favorite stores, inside and out.
Knowing the best days for sales means tracking your favorite sites closely. One twenty-something shopper, Jamie*, told Mic she followed Anthropologie's website so much that she noticed that they posted markdowns late on Monday and Tuesday nights. 
Following the stores on social media also helps. "Most companies will typically share coupon codes and special sales on those platforms first — this helps you snatch up the items you want before they sell out," Kimberly said. 
4. Bookmark sites and set up email alerts.
Plenty of websites also offer sales updates, which are worth reviewing in the morning, Kimberly said. She double-checks her lists with sites like RetailMeNot to ensure she's getting the best deals, and also shares her own list of daily sales on her blog.
"It's the first thing I do each morning, and it's a great way for me to stay on top of sales that are happening at my favorite stores." Kimberly said.
While those email sale alerts might clog your inbox, Claudia of The Penny Closet told Mic that they're useful for tipping you off. Sometimes she'll follow up on a promo email by looking for the item in-store to see if there are additional discounts she can use. 
"I also try and check out Polyvore to see where I can get the best deals, or I just Froogle it," she said — meaning using Google's underrated Shopping tool.
5. Coupon codes are your best friend.
It's worth it to take the extra time to scour for coupons you can use on your purchase, using sites like RetailMeNot or just Google. "You will be surprised how many coupons are out there for you to save," Claudia said. 
Combining coupons with semi-annual or seasonal sales is a great trick to getting the best bang for your buck, said Yasmine. The words "with any purchase," she added, are a shopper's best friend.
6. Download apps to find even more sales and coupons.
These shoppers regularly rely on promotional emails or website alerts for price markdowns, but using certain apps while in-store can make it easier to score deals.
"I also use the Shopular app when I'm out shopping to pull up coupons to use in-store.  When shopping online, I recommend using Ebates so you can earn cash back on your purchases. Believe it or not, it adds up," Kimberly said.
7. Let stores know when it's your birthday.
Birthday coupons or discount codes never have restrictions, so it's best to get them during a time when a great sale is already going on, said Yasmine.
"That's how I went to Victoria's Secret and got two lotions, two pairs of socks and a pair of panties for $1 this past January. $1 total. It was glorious."
8. Try on the clothes — then check them out online.
"If I passed by an Anthropologie store, I would go in and try things on, and then make a mental note of what I liked and put it in my online wishlist so that I could see when it went on sale," said Jamie. Doing so also means you can check for the fit and material before ordering online and figuring out the best deal.
"I have also discovered that many times retailers offer lower prices online than in stores, so it pays to check both before making a purchase to ensure you are getting the lowest price possible," added Kimberly. Case in point? This jacket:
9. If you're really determined, be ready to hold out — even if it takes years. 
"I have a wardrobe full of dresses, shirts and skirts that I've bought at Anthropologie over the years, and I don't think I've bought anything full price from there in the last five years!" said Jamie.
"To be honest, sometimes I've missed out on things I really wanted because I was stuck waiting for it to go on sale," said Kimberly. "But I would much rather let a few of those pieces go and get great deals on everything else than to pay full price all the time."
She added, "Sometimes it takes a while to track down exactly what I'm looking for, so it's important to be patient. For example, it took me three years to find the perfect leopard pumps." 
*Names have been changed to allow subjects to speak freely on private matters.