Which Emoji Hashtag Is Hiding the Most Dirty Material on Instagram?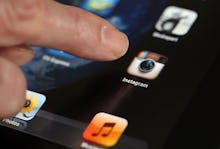 In late April, Instagram broke the hearts of sexters everywhere when it banned the eggplant, universally regarded as the best phallic emoji available, from being used as a hashtag. Its association with inappropriate content was too strong, Instagram reasoned, so it decided to nip naughty searches in the bud by removing it altogether.
Luckily for the horndogs of the world, the eggplant appeared to be the only casualty of Instagram's puritanical wrath. Other sexually suggestive emoji — peach, banana, water droplets, tongue — were still free to be hashtagged, opening the door for nudie photo fans to find content by simply plugging one of the aforementioned emoji into the search bar.
Of course, Instagram's notoriously strict censorship policy can make it hard to find much dirty material. But it's there — boy, is it there. To that end, Mic has compiled a list of searchable and dirty Instagram emoji hashtags — rated on a scale of one to five eggplants (#neverforget) — that may be useful if one is looking for, you know, dong and the like.
1. The smirking face 
Nudie photo quantity rating: Two eggplants
What you'll find: Couples in bed, butts, abs
For whatever reason, the little yellow faces are generally of little use when it comes to finding the good stuff on Instagram. The smirking face is no exception: While there are some titillating content contained within (and there should be, with over 64,000 posts), most of it is fairly unexciting.
2. The devil and angel
Nudie photo quantity rating: Three eggplants
What you'll find: Breasts, women straddling men, hints of male genitalia 
The pairing of the devil and angel emoji is pretty brilliant, and users who find it will be rewarded. There's more nudity here than the smirking face hashtag, and despite the relatively small number of posts — just over 600 — a fair few of them are naughty. They're creative too: Our search yielded a naked woman barely covered by a guitar and an artfully placed duvet cover behind which a hint of dong peeked through.
3. Two eggplants
Nudie photo quantity rating: Three eggplants
What you'll find: A penis-shaped piñata, actual eggplants, scant pornography, breasts
Instagram may have banned the lone eggplant, but that hasn't stopped enterprising Instagram users from creating alternatives, like the double, triple, quadruple and even quintuple eggplant. The twin version is the most fruitful, though that's not saying much, as the most X-rated content appears to disappear soon after it gets posted. There are, however, a fair number of large-chested women to be found.
4. The peach
Nudie photo quantity rating: Three-and-a-half eggplants
What you'll find: Butts. Butts everywhere
The peach is the fruity, anatomical complement to the eggplant, signifying the female body. The Instagram hashtag certainly supports this, and a great deal of the roughly 21,000 posts are butts. Actual fruit are scattered among the cheeks — it is peach season, after all — but if you're into butts, this is the hashtag to visit.  
5. The kissy face
Nudie photo quantity rating: One-and-a-half eggplants
What you'll find: Duck faces, selfies, cuddling
The yellow faces let us down yet again. The kissy face is even less interesting than the smirking face, and most of the content is — you guessed it — people making kissy faces. There are some naughty selfies scattered throughout, but it's a long road to find them, as the hashtag has over 300,000 posts. 
6. The tongue and water droplets
Nudie photo quantity rating: Three eggplants
What you'll find: Memes, Ruby Rose, male nudity, oral sex 
The tongue-and-water-droplets combination is slightly more female-oriented than the other options, and features a fair number of depictions of cunnilingus. It's also got man butts, sexual memes and, for some odd reason, more than a few photos of Jennifer Anniston.    
7. Solo water droplets 
Nudie photo quantity rating: Four-and-a-half eggplants
What you'll find: Actual pornography, male models 
Unlike its partnered version, the solo water droplets emoji yields a treasure trove of sexy material, including video. It has a good deal of actual porn, which as we've pointed out before is further proof of Instagram's weirdly inconsistent censorship policies. For the purposes of these rankings, however, that avoidance earns it a solid four-and-a-half eggplants.
8. Sexy time fingers
Nudie photo quantity rating: One-and-a-half eggplants
What you'll find: All the memes, a few photos of bacon, this
For such an overtly sexual hashtag, you'd think the old finger-in-the-hole combination would do the trick. Alas, it's largely barren, and is populated by memes and not much else. It does have bacon, however, which warrants an extra half-eggplant.
9. The tongue
Nudie photo quantity rating: Four eggplants
What you'll find: Tongues, videos of girls in plastic pools, girls on cars, a hint of penis
Like its sometimes-partner the water droplets, the tongue is better off by itself. It has a lot of good, G-rated tongue content, but it also has a lot of graphic-ish photos of women that look like either stills from porn or glamour shots. Throw some cute dog photos in there — tongues wagging — and you've got yourself a pleasant hashtag experience.
10. The winky face
Nudie photo quantity rating: Zero eggplants
What you'll find: Friendship, selfies
Oh, yellow smiley faces. Maybe someday you'll came roaring back to the naughty emoji hashtag scene, guns blazing and inappropriate content abound. For now, however, the winky face retains the title of the most PG-rated item on the list. We can theorize it's because it's a stereotypically sexual emoji and thus Instagram keeps a keener eye on it, but we'll never know for sure.  
11. No one under 18
Nudie photo quantity rating: Four eggplants
What you'll find: Butts, naked selfies, underwear
The "adults only" hashtag is a very solid smorgasbord of nudie content. It has a little bit of everything, including men, women, butts, professional-looking glamour shots, memes and lingerie. It's not stellar enough to warrant five eggplants, but it's a serviceable option nonetheless.
Happy browsing!