No One Expected Bernie Sanders to Raise as Much Money as He Just Raised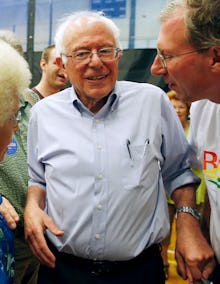 Sen. Bernie Sanders' (I-Vt.) spoke Wednesday before a roaring audience of nearly 10,000 people, the most impressive crowd in the presidential election race so far. Sanders remarked on how he expected his authenticity and his policy ideas help him overcome his campaign's financial hurdles. 
"I am more than aware that my opponents will be able to outspend us. But we are going to win this election," Sanders told the supporters gathered at an arena in Madison, Wisconsin.
Sanders is right that he has some serious financial competition — Hillary Clinton is raking in about half a million dollars a day. But according to the numbers released Thursday by the Sanders campaign, Sanders' war chest is far from a laughing matter. 
Since April 30, when he launched his presidential run, Sanders' campaign has raised about $15 million — about $5 million more than he had anticipated based on estimates earlier this month.
Sanders' camp reports 99% of the contributions of around 250,000 individuals were $250 or less, and the average donation was $33.51.
Sanders, who is receiving a vast majority of the donations through his website, has set his sights on raising $40 million to $50 million by year's end. The new numbers suggest that his long-term goal is certainly reachable. 
Of course the best way to measure the power of a candidate's campaign coffers is through comparison to their rivals, and Clinton, the front-runner in the polls, is a fundraising colossus. Clinton, who announced her bid for the White House a few weeks before Sanders, has pulled in $45 million so far — the largest quarterly figure pulled off in the primary stage of a race. 
While Clinton's greatest advantage over Sanders in piling up cash is that she has strong ties with Wall Street and is coordinating her campaign with powerful super PACs, 91% of the contributions to her campaign were for $100 or less. 
Bernie-mentum has certainly proven itself to be bigger than a social media fad. But as the press and the Clinton camp begin to take him more seriously, it will be interesting to see if it will carry on at its current pace.