14 Real Patriotic Anthems You Won't Hear on the Radio This Weekend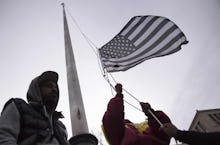 Freedom will be ringing out of radios across the United States this holiday weekend. We know what we're going to hear: There'll be a lot of Skynyrd, a lot of T-Swift, some RiRi. During all the fireworks displays and parades taking place this weekend, we'll hear our country's beloved patriotic anthems. However, the America we live and love today looks nothing like the one we sing about in these songs. Our amber waves of grain are mostly industrial grade corn now; our roaming buffalo have far narrower stomping grounds; and we all know the limits of phrases like "liberty and justice for all." 
These songs do little to help us reconcile our ideals with our realities. But by exercising out greatest American right, free speech, our best have filled that void, penning the anthems that push our country to realize its potential. They'll never get recognized as true patriotic anthems, but these are the songs that have motivated us to truly become the "land of the free." They should be on every American's Fourth of July playlist.
1. Public Enemy — "Fight the Power"
Key line: "Our freedom of speech is freedom or death / We got to fight the powers that be"
Perhaps the greatest political hip-hop song ever recorded, Public Enemy's "Fight the Power" speaks for all those people to whom the United States' "liberty and justice for all" has not applied throughout history. "Most of my heroes don't appear on no stamps," spits Chuck D, the group's lead MC. "Sample a look back you look and find / Nothing but rednecks for 400 years if you check." Until the colors of our country's icons reflect the colors of its people, we need to keep fighting the powers that be.
2. Bob Dylan — "Masters of War"
Key line: "But there's one thing I know / Though I'm younger than you / Even Jesus would never / Forgive what you do"
Off Bob Dylan's second studio album The Freewheelin' Bob Dylan, "Masters of War" is among the most confrontational and direct political anthems he ever wrote. He speaks to all the war-makers sitting in this country's positions of power, who "play with the world like it's [their] little toy." He criticizes the way the powerful continue to choose money and power over making the world a better place. It's a lesson Jesus was teaching more than 2,000 years ago, and one that our country's leaders still haven't fully grasped.
3. Homeboy Sandman — "America, the Beautiful"
Key line: "The streets ain't paved with gold / At least they paved though."
America is beautiful. It's just not as beautiful as our national anthems make it out to be. But compared to much of the developing world, it's still the land of opportunity. Homeboy Sandman, a staple on the underground hip-hop label Stones Throw, encourages us to recognize this beauty through all the nation's ills on his single "America, the Beautiful." "Cut the 'woe is me,'" he raps. "It's a work in progress and it may always be."
4 Kendrick Lamar — "Hood Politics"
Key line: "Ain't nothin' new, but a flu of new Demo-Crips and Re-Blood-licans / Red state versus a blue state, which one you governin'?"
On "Hood Politics," Kendrick Lamar makes the uncomfortable comparison that our red and blue political parties function the same way as American gangs the Crips and the Bloods. Political parties divide up territories, intimidate opposing factions and have been accused of distributing drugs and guns, just like gangs. Lamar likely pulled his political party puns from former Minnesota Gov. Jesse Ventura's book DemoCrips and ReBloodlicans: No More Gangs in Government, which goes into far more detail about how the two-party system runs contrary to so many of our country's values.
5. Father John Misty — "Bored in the USA"
Key line: "Save me, President Jesus / I'm bored in the USA / How did it happen?"
Father John Misty is Bob Dylan for an apathetic audience. His political anthem bemoans all the problems with American society: our broken education system, ailing housing market and heavy reliance on prescription drugs. But he doesn't seek to do anything about it any of it. In this way, it functions as a parody of the attitudes that allow America's problems to perpetuate.
6. Rage Against the Machine — "Wake Up"
Key line: "How long? Not long, cause what you reap is what you sow"
It's hard to believe that songs as ruthlessly political as Rage Against the Machine's "Killing in the Name Of" used to get repeat plays on MTV and in blockbuster films. But those were the days when the mainstream industry could afford to take gambles on artists whose attitudes veered so far from pop norms. Throughout their run, Rage Against the Machine fearlessly blended their music with political activism, encouraging their audiences to do the same. We need a new Rage Against the Machine. We may have found one in...
7. Run the Jewels — "Close Your Eyes (And Count to Fuck)"
Key line: "Conditions create a villain, the villain is given vision / The vision becomes a vow to seek vengeance on all the vicious / Liars and politicians, profiteers of the prisons"
Killer Mike is a true American hero. He has been one of the most insightful voices leading the conversation on police brutality and race relations this past year, and he's recorded some of the most hard-hitting and rowdy hip-hop we've heard in years with Run The Jewels. The political urgency that surrounds their music does feel reminiscent of Rage Against the Machine's political action. Having Zach De La Rocha guest on "Close Your Eyes (And Count to Fuck)" also helps.
8. Steppenwolf — "Monster/Suicide/America"
Key line: "Its leaders were supposed to serve the country / But now they won't pay it no mind"
Steppenwolf's "Monster/Suicide/America" tells the entire story of the founding of the United States over a nine-minute rock epic. It starts off like most of our patriotic anthems, with classic images of pious settlers and covered wagons. But over the course of the song, that vision is corrupted: "America, where are you now?" the song asks. "Don't you care about your sons and daughters? / Don't you know we need you now? / We can't fight alone against the monster."
9. Sly and the Family Stone — "Stand!"
Key line: "For the things you know are right / It's the truth that the truth makes them so uptight"
Standing up for one's rights in a country that insists it gives "liberty and justice to all" is not an easy thing to do. The overwhelmingly positivity of Sly and the Family Stone's "Stand!" should offer listeners the hope and motivation they need to continue with that fight. "Don't you know that you are free," the band sings. "Well, at least in your mind, if you want to be."
10. Prince — "Dance On"
Key line: "It's time for new education / The former rules don't apply"
Few can make political commentary funkier and more irresistibly danceable than Prince. On "Dance On," he outlines the United States' shortcomings with slick poetry, focusing on gun violence, war and education. He encourages listeners to rise above these ills through the power of music. Music in and of itself can't change the world, but it can inspire the minds that do.
11. Sharon Jones and the Dap-Kings — "This Land Is Your Land"
Key line: "Down by the welfare office, I saw my people / You know, now, they stood hungry, I stood wondering / I was wondering if this land was made for you and me"
With this cover of Woody Guthrie's "This Is Your Land," Sharon Jones lays the song's understated political critiques over some loping funk. It's pretty crazy that kids still sing this song in elementary schools, lopping off the last two verses that contain all the important political critique.
12. Lauryn Hill — "Neurotic Society (Compulsory Mix)"
Key lines: "They don't feel complete / Unless they're misleading/robbing the sheep / Man is not a product if you call him that then stop it!"
The sweet, vulnerable love songs Ms. Hill wrote on The Miseducation of Lauryn Hill are far in the past. In their place, we're getting songs that show a true political revolutionary coming into her voice. "The whole world suffers from a lack of honest dialogue. Character and integrity have suffered at the hands of political correctness and corporate agenda, while our society moves further and further towards unhealthiness and breakdown," Hill wrote on her Tumblr, describing the song "Neurotic Society," released in May 2013. "The overarching message of my music is to get up and stop compromising! And hopefully it will stimulate and motivate the changes that our society needs."
13. Tune-Yards — "My Country"
Key line: "The worst thing about living a lie / Is just wondering when they'll find out"
Tune-Yards snagged the tune to "My Country, 'Tis Of Thee" for a reimagined "My Country." Her version offers a little more scrutiny about our country's directions than the original. "My country, 'tis of thee / Sweet land of liberty / How come I cannot see my future within your arms?" The poetry paints a picture of a country riddled with economic and social inequality. But it offers hope for the future, where we can see past the lies to a truly equal country.
14. Patti Smith — "People Have the Power"
Key line: "And the people have the power / To redeem the work of fools"
The freedom to express ourselves and have our voices heard is truly what makes this country one of the greatest on earth. But if we don't use that power, then our rights aren't worth anything. Patti Smith's political anthem "People Have the Power" reminds us all of who really has the power in this country. The government works for us, not the other way around.
The full playlist via Spotify: