If Mexicans Celebrated July 4th Like Americans Celebrate Cinco de Mayo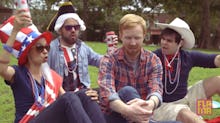 What if Mexicans celebrated the Fourth of July like Americans celebrate Cinco de Mayo? The comedic team at Flama has an idea of how it would look, and it's hard to disagree.
Note both the conspicuous consumption of alcohol and the absence of any real knowledge of the holiday's history. Mix in the frequent misidentification of cultural traditions, and you have all the hallmarks of this never-ending American party called, "Find any excuse to turn the f*ck up."
What a country we live in. Watch the video below:
There's the "traditional" American clothing:
The offended "natives":
The consumption of "national beverages":
And, of course, the traditional dances:
There's the rewriting of history:
The obligatory sing-along, including the "national anthem":
The ethnic faux pas:
And spending the day drunk:
But at the end of the day, we can all agree on one thing:
Well, two things:
As a reminder: The Fourth of July commemorates the day when the 13 colonies — which later became the United States of America — affirmed their independence from Great Britain by signing the Declaration of Independence.
Cinco de Mayo commemorates the victory of the Mexican Army over the French at Puebla in 1862. It is, according to University of California, Los Angeles professor David Hayes-Bautista, as quoted by Mic, "100% an American celebration."
Neither day commemorates getting wasted because why not. But that doesn't mean we won't do it anyway!