These Gorgeous Photos Show the True Meaning of "Love Is Love"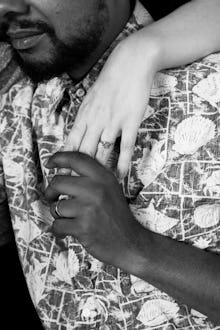 Last week, the world was reminded that #LoveIsLove with a detailed, 28-page Supreme Court decision. 
A new series of photos is demonstrating that same sentiment without using a single word at all.
Barneys' The Window blog released a stunning set of close-ups showcasing seven diverse couples, including interracial and same-sex partners. The black-and-white photos hone in on the subtle, personal details of their wedding rings — and the universal intimacy between couples as they embrace. 
Focusing on the hands was purposeful, and not just to highlight the curated set of rings, Marissa Rosenblum, editorial director of The Window and director of the photo shoot, told Mic. What the team wanted was to "catch the creases and life in the couple's hands to tell the story visually." The physical appearance of someone's hands, after all, expose so much about a person, she said. 
"We wanted to capture the couples in a photojournalistic style that truly represented the closeness and expression towards each other," Rosenblum said. "Holding hands is exceptionally intimate, and we wanted to capture that affection in a delicate yet poignant way that honored these couple's unions."
Those unions are all different, and the stories of how each couple met, how their relationship has unfolded or simply what they bond over accompany the photos. 
But the beauty of the photo series, which embraced a "love is love" theme, is that hands and rings are something we all share. Wedding rings and bands have a history dating back to Roman times, but have only recently become popular in America (as late as World War II, according to the Knot). But they hold power by being one of the many symbols of partnership and commitment couples have — all couples, including same-sex ones.
The Supreme Court's ruling striking down same-sex marriage bans hadn't yet been announced when the photo shoot took place, Rosenblum said, but it made the series all the more poignant when it was released days later.
As Rosenblum said, "It truly shows the love [and] natural commitment all humans have for one another regardless of what was or wasn't legal before. Working on the story, it's really a message of equality and human rights."