Early Iraq War Opponent Jim Webb Enters Democratic Primary Race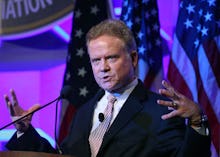 After more than seven months of deliberation, former Virginia Sen. Jim Webb made it official Thursday, saying he will join the race for the Democratic presidential nomination.
In a formal announcement posted to his campaign website, Webb immediately set to attacking frontrunner Hillary Clinton.
"I know that more than one candidate in this process intends to raise at least a billion dollars — some estimates run as high as two billion dollars — in direct and indirect financial support," he wrote. "Highly paid political consultants are working to shape the 'messaging' of every major candidate."
Webb's "messaging" is likely to focus on his military background and early opposition to President George W. Bush's 2003 invasion of Iraq. Clinton voted to authorize military intervention during her time in the Senate.
A Vietnam War veteran and former Navy secretary under President Ronald Reagan, Webb warned that war in Iraq would lead to a long occupation and "unintended consequences."
"The issue before us is not simply whether the United States should end the regime of Saddam Hussein, but whether we as a nation are prepared to physically occupy territory in the Middle East for the next 30 to 50 years," Webb argued in a Washington Post op-ed published Sept. 4, 2002. "Those who are pushing for a unilateral war in Iraq know full well that there is no exit strategy if we invade and stay."
Just over 12 years after the first American troops crossed into Saddam Hussein's Iraq, Webb's anxieties look more prescient than ever. Another pre-invasion skeptic, President Barack Obama, formally ended the war and withdrew American troops in 2011, but has since steadily ramped up military activities, deploying another 450 "advisors" to the country in June to aid in the fight against ISIS militants.
The resume: Webb, who has published a number of best-selling novels, worked as a journalist and writer before and after a stint in the Reagan-era Defense Department. His 1983 reporting on the Lebanese civil war won him an Emmy, and a story of his was adapted into a 2000 film, Rules of Engagement, starring Tommy Lee Jones and Samuel L. Jackson.
More recently, Webb made headlines by defending the "complicated history" associated with Confederate battle flag, which has been disappearing from state capitols and retail store shelves in the aftermath of the Charleston church massacre.
The flag, he wrote in a Facebook post, "should not be used in any way as a political symbol that divides us."
He continued: "But we should also remember that honorable Americans fought on both sides in the Civil War, including slave holders in the Union Army from states such as Missouri, Kentucky, Maryland and Delaware, and that many non-slave holders fought for the South. It was in recognition of the character of soldiers on both sides that the federal government authorized the construction of the Confederate Memorial 100 years ago, on the grounds of Arlington National Cemetery."
Right.
The odds: Not good. Webb will be an interesting character on the debate stage, where you can expect him to target Clinton for her Iraq vote. The only war veteran in the 2016 field, he is likely to make foreign policy a centerpiece of his campaign. But Webb can be erratic. His decision to announce his campaign on the eve of a long holiday weekend, with millions of Americans away from their televisions and computers, was curious at best. 
Early polls suggest Webb has a steep hill to climb. The good news? He begins in third place, behind Clinton and Sen. Bernie Sanders (I-Vt.), but ahead of former Maryland Gov. Martin O'Malley, who has been on the trail since May.