Employees of this Tennessee County Clerk's Office Resigned Because of Same-Sex Marriage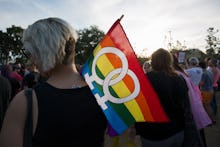 Three employees from the Decatur County Clerk's office in Tennessee, including the county clerk herself, are resigning because they don't want to issue marriage licenses to same-sex couples. Decatur is the only county in Tennessee to take this stand against issuing licenses in the wake of the Supreme Court's decision legalizing same-sex unions nationwide. 
Clerk Gwen Pope and her associates Mickey Butler and Sharon Bell cited religious objections to the ruling when explaining why they felt compelled to resign. They were doing it not for publicity, Pope said, but for the "glory of God," the local Jackson Sun reported. 
"It's kind of sort of like you don't want to draw attention to yourself for any reason," Pope told the Sun. "That's not why we're doing this. Not doing it in any way to draw attention to us. It's for the glory of God. He's going to get all the glory."
All three employees will serve their last day on July 14 and currently have no professional alternatives. However, Pope is not concerned. "I honestly believe God will take care of us," she said in the same interview. 
Pope's office was reportedly inundated by calls and visitors to commend the civil servants for taking a stand and refusing to capitulate to what some people view as the religiously objectionable ruling. 
"These three ladies stood upon their beliefs and they stood upon their morals and no one can fault them," Scott King, a Decatur County resident, told the Jackson Sun. "Too often we as Christians don't do that. It's time we followed the lead of what they showed us."
The county office walk-out reflects the difficulty some of the nation's more conservative regions are having accepting the June 26 court declaration that marriage equality is a constitutional right. A Kentucky county clerk, for example, is being sued for refusing to issue same-sex marriage licenses. The adjustment has not been an easy one for all Americans, and it will invariably take time before same-sex marriage is commonplace.