These Horrifying Drawings Show the Real Price of ISIS' Terrorism on Children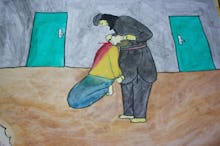 Efforts to restore peace and rehabilitate communities that have been ravaged by war are often measured in tangible variables: the number of shelters in a refugee camp, the accessibility of clean water, the rebuilding of infrastructure. What the world often forgets is the ineffable emotional scarring left on the victims. But these drawings by Yazidi refugee children in Dohuk, Iraq, who fled the Islamic State group's persecution are an acute reminder of war's lasting affects on communities. 
As religious minorities, Yazidis are heavily persecuted by Islamic State militants, who consider them infidels. Sinjar, a Yazidi village in northern Iraq, was the site of a targeted Islamic State insurgency in August 2014, and its inhabitants were exposed to horrific atrocities. 
"ISIS forces have committed organized rape, sexual assault, and other horrific crimes against Yazidi women and girls," Liesl Gerntholtz, women's rights director at Human Rights Watch, said in April. "Those fortunate enough to have escaped need to be treated for the unimaginable trauma they endured."
Those who managed to escape now reside in a Dohuk refugee camp, which houses many children whose parents were killed. In February, Al Jazeera reported, Nazik Shemdin, director of a nongovernmental organization that takes care of parentless Yazidi children from Sinjar, organized and provided the materials for a drawing session. Shemdin imagined it would be a fun activity and offer distraction to the traumatized and lonely young refugees. 
The results were heartbreaking: The exercise, along with future drawing sessions, served as a catharsis for profoundly disturbed and traumatized children. The pictures below depict mass executions, the enslavement of women and a mother forced to murder and consume her child.
Yazidi women are enslaved by two armed Islamic State group militants — captives are often forced into sexual slavery.
The depiction of a Yazidi mother forced to murder and then eat her own child. The caption reads: "They made my mother eat the 'meat' of one of my siblings, and the other [sibling] is lost. 'My lord,' how will I live all alone?"
The group execution of Yazidi men
The entire gallery can be viewed on Al Jazeera.
These images remind the world of the desperate need for victims of war to have access to psychological care — without which moving forward in life can feel like an impossibility. The drawings are also a stark reminder of the painful legacy of war; after the violence subsides, its impact can last a lifetime, permanently damaging a community.