59 People Dead and Murder Charges Filed After Filipino Ferry Disaster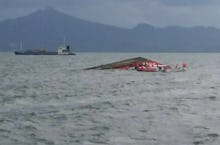 Filipino police have announced that they have filed criminal charges against the owner and crew members of a ferry that capsized on Thursday, killing 59 people and leaving 145 survivors.
The Associated Press reports 17 members of the M/B Kim Nirvana crew along with ferry owner Joge Bung Zarco and captain Warren Oliverio will be facing murder charges. While local authorities alleged the ferry's captain had taken a hard turn to the right, causing the ship's cargo to spill over and the vessel to capsize, retired American firefighter Lawrence Drake who was on the ship told the AP  turbulent seas were to blame for the incident.
On Friday, CNN reported the ship had made it just 200 meters outside port when it capsized, leading to speculation over whether the vessel was seaworthy.
"There was a little wave, which is normal, but yesterday that caused the boat to flip to the right," American survivor Rhome Nuttall told CNN. "I ran to the left hoping we could help to balance the boat. When we flipped, I said: 'OK, this is it. OK, this is it.'"
However, she also told the network a loud noise aboard the ship appeared to have been cargo falling to one side and added, "I think it was that big thud. I think that was cargo that shifted and that caused the boat to flip."
This is the 14th major ferry accident in the Philippines since 2000 and the worst since a disaster in 2008 which resulted in 44 deaths.