Even NASCAR Has Had Enough of Donald Trump's Blatant Racism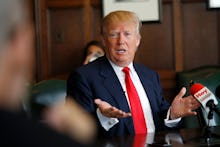 In an ideal world, Americans would never have to contend with the reality of Donald Trump's campaign for the presidency. But while the country really is living out this grotesque saga in real life, it comes with a silver lining: Trump's gross racism is doing millions of dollars' worth of damage to his business prospects.
On Friday, Trump lost a lucrative deal with NASCAR to host its end-of-season awards ceremony at the Trump National Doral Miami, the Associated Press reported. 
"We looked at everything we saw coming down and what we heard from our sponsors and our partners and what we feel we should be doing, and that's what led us to the decision today," NASCAR spokesman David Higdon said Friday at Daytona International Speedway.
The news came the same day top NASCAR sponsor Camping World's CEO Marcus Lemonis issued a letter calling out Trump, saying his company "[feels] strongly about distancing ourselves from any negative and discriminatory comments made against any gender, ethnicity, age group or so forth." 
Earlier this week, Trump lost contracts with NBC, Univision and Televisa among others had lost Trump a "minimum" of $78.5 million in revenue. Mexico and Costa Rica have both announced that they will not be sending a female contestant to enter the Miss Universe contest, a franchise Trump owns.
Not only is the short-term damage to Trump's wallet a blow to his business reputation, the rapid pace at which his comments are unraveling parts of the Trump empire strongly indicate his momentum as a candidate is totally unsustainable.
"For businesses and brands, it's one thing to be associated with a divisive and disrespectful force that you don't as a company believe in, but when you combine that with moronic behavior, it's a double whammy," former political consultant Lenny Stern told NBC. "It's the idiocy of his statements and how he's handled it."
But while he may be on a rapid downward trajectory, Trump still has a lot to lose before he hits rock bottom. On Wednesday, the PGA Tour, PGA of America, LPGA and USGA issued a statement saying while the associations "do not usually comment on presidential politics, Mr. Trump's comments are inconsistent with our strong commitment to an inclusive and welcoming environment in the game of golf."