12 Incredible Photos of Americans Celebrating the 4th of July Around the World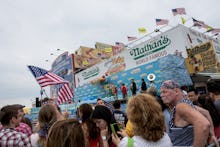 It's the Fourth of July, which means that Americans across the globe are in for a day full of sports, barbecue, fireworks and beer. As the United States celebrates its 239th year of independence, the festivities are as awesome as ever.
Here are some shots showing how soldiers, citizens and others are commemorating Independence Day around the globe.
1. Nathan's Hot Dog Eating Contest, Coney Island, New York
2. Columbus, Ohio
3. Bagram Airfield, Afghanistan
4. Expo 2015 at Rho, Italy, near Milan
5. Concert rehearsal in Boston
6. Jeb Bush campaigning in Amherst, New Hampshire
7. USS Theodore Roosevelt, Fifth Fleet Area of Operations, Arabian Sea
8. Monument Valley, Arizona-Utah state line
9. Germany
10. Nagasaki, Japan
11. Mars Rover, Mars
12. International Space Station, Earth orbit