Hillary Clinton Had a Touching Message for a 'Humans of New York' Photo of a Gay Teen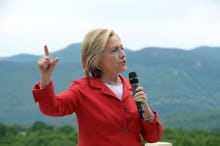 After a photo of a young LGBT child mysteriously disappeared from Humans of New York's very popular Facebook page, commentators were quick to wonder whether the deletion was the result of a technical error or a very bad moderation decision.
But presidential candidate Hillary Clinton was one of many people who took the time to post supportive comments when the photo was re-uploaded, using her official campaign Facebook to leave an inspirational note for the troubled youth. Though many Facebook users shared emotional and supportive messages in the photos comments, Clinton's stood out:
"Prediction from a grown-up: Your future is going to be amazing," Clinton wrote. "You will surprise yourself with what you're capable of and the incredible things you go on to do. Find the people who love and believe in you —there will be lots of them."
Both Clinton's response and the original photo have gone viral. The Facebook post has garnered over 500,000 likes and nearly 50,000 shares on Facebook. Clinton's response has over 30,000 likes.
Clinton's personally signed post is a charming act of kindness towards a young LGBT youth having a rough time with life. But it's also a savvy P.R. move, contrasting her campaign with the more negative rhetoric coming from socially conservative opponents of same-sex marriage. Hopefully this is the kind of dialogue that will become more mainstream as the Republican Party realizes it has thoroughly lost the battle over traditional marriage.
h/t Jezebel